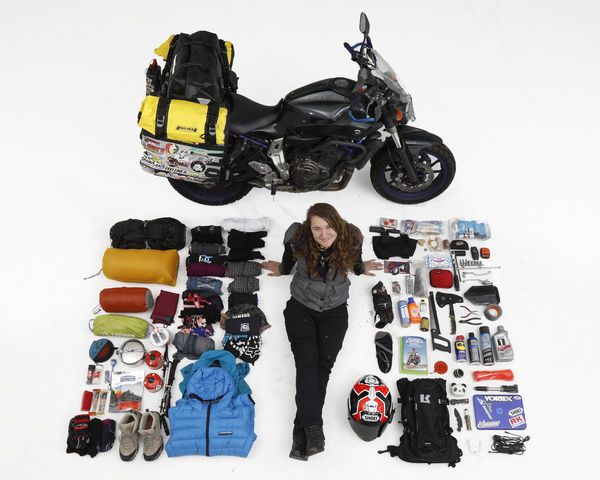 Motorcycling is a much loved and fonding adventure sport for both females and males. Nothing can beat the pleasure of motorcycle riding for a motorcycle enthusiast. One who rides knows the real taste of fun and adventure. Motorcycling is the complicated term itself because it has several branches.
Motorcycling includes touring, racing, stunting, off-roading, and so on. But today we are going to talk about touring inclined formalities. Touring requires packing. And when it is about girls it becomes utterly confusing.
In that case, all the women out there should not worry about what to ack and how to pack for a motorcycle trip. When you have overcome the problems faced by female riders, and own the right motorcycle that you must not waste much time on packing.
The amazing motorcycle roads in the USA awaits you. So, here we go illustrating to you how should a woman pack for a motorcycle trip.
How should a woman pack for a motorcycle trip?
Basically, diminishing gender differentiation, anyone planning for a motorcycle trip must keep these few things in mind.
Firstly, pack as little as possible. Prefer having light luggage.
Organize all the pieces of stuff you take, neatly! Packing neatly can provide you more space. (Scroll down to unfurl some packing hacks to fit more clothes in less space.)
Prioritize things based on their access and utility. Sort the prioritized things in different bags.
For example, your power bank, extra sun visor, sunglasses, rain suit should be prioritized and must be kept handy.
So, depending on how much a thing can be required by you while riding, sort them.
Be very careful and choosy while choosing garments for yourself. You have be sure if you aren't carrying any unwanted clothes. Take as much as needed. Turn away from choosing something extremely fashionable and beautifully stylish. By beautifully stylish I tried to mean, something which is too long and might become unmanageable like a scarf, or neckerchief.
Be sure to segregate toiletries according to the season, for you might not need as many toiletries in winter as in summers.
So, be patient to list down things before you pack, so that you do not miss out on one and that causes you regrets while your happy rides.
Before we talk about what should you pack, let me remind you to be sure to make a packing list.
What is the motorcycle ride packing list?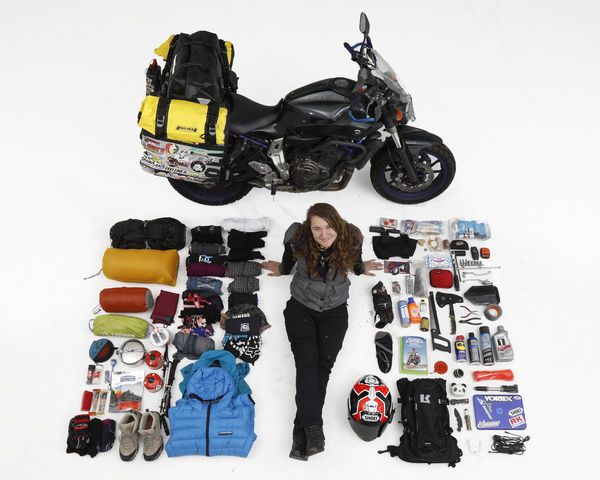 A pack list or packing list is a document that includes, detailed list about what to pack for a trip (here, motorcycle ride).
A pack list for motorcycle ride must include the following,
Safety gears and riding accessories,
At least four to five sets of clothes, (this is supposed to vary with the tenure of your trip),
Extra pair of shoes or riding boots,
Four to five pairs of socks,
Toiletries,
Rain suit,
Charger, Powerbanks, and other electronic gadgets, like action camera, its charger, and its other associate belonging. A mount, Mic connector, etc.
Camping kit,
Important documents, Motorcycle driving license, motorcycle insurance cards, identity cards, etc.
Tool kit, along with Tire care kit, Motorcycle chain kit, etc.
Cash separately in different backpacks,
Other essentials, like medicines, candles, torch, matchbox, duck tape, penknife, and so on.
For keeping up with your food mood during your ride do not forget to carry some dry food.
,
What should a woman pack for a trip?
As we have already made the planning list, we shall proceed with our packing accordingly. Let me just tell you things litter elaborate so that you do not have that certain feeling of whether the above-mentioned things are necessary or not.
Safety Gears and accessories:
Taking a turn in your neighborhood, or riding miles to seek adventure or experience, safety gears are a must. A gear set includes,
Branded and authorized Motorcycle riding jackets,
Motorcycling Gloves,
Motorcycling Boots from authorized and authenticated stores.
Ensure the gears fit you properly and assure high protection and comfort.
Clothing: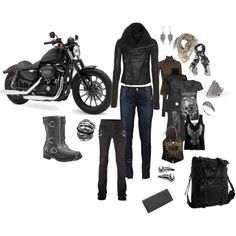 Pack your clothes in a way that you do not compromise on your safety and comfort while riding. At the same time, carry clothes that are stylish and define your fashion statement to wear when halting for nights at hotels or camps.
Click here, to know what makes a perfect Women Motorcycle Riders Outfit
Remember, your clothes ought to vary for summer rides to winter rides. For summer rides, pack cotton clothes and well-vented outfit, preferably comfy yet to keep you warm at night when the temperature drops.
Winter naturally demands warm clothes, thick trousers, and gloves to warm your hands.
Here we are listing an in general clothing tip, do the necessary changes as per your ride season and location.
Denim Pants
Comfortable walking trousers or shorts, or skirts,
Inner garments, better to take a pair or two extra than you need,
Riding socks with two pairs of regular socks,
Tees, Tanks tops, or blouses,
A pair of walking shoes like sandals or flip flops,
A bathing suit, (optional)
A Rain Suit
These items are to be taken according to your trip tenure, and the season of the ride.
Toiletries:
The basic toiletries must be carried such as soap, shampoo, toothpaste, toothbrush, Moisturizer, sunscreen, sanitary napkins, etc.
Make-ups, Eye creams, hair products stand optional.
Electrical Gadgets: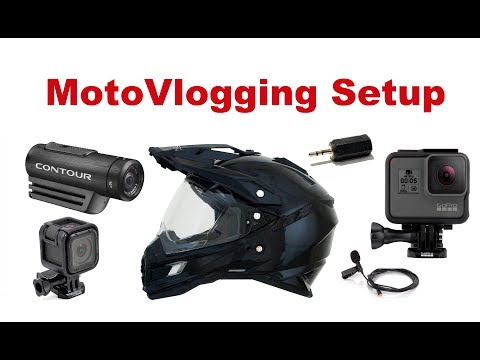 Gadgets like charge for your mobile phone, Bluetooth system, USB cable, Power banks, Action camera, and it's associate pieces of equipment and other electronic gadgets you think is needful.
Miss any one of the items from this part at your own risk.
Camping Kit:
Tent:
Depending on if you are going to stay alone in a tent or sharing with a person, take the right size tent. Because you have to accommodate your luggage and gears with your self inside the tent.
So, better to get a two-person tent if staying along and a three persons if staying in pairs.
Sleeping Bag:
Riding in winters for a day or two or a week dare to miss on a sleeping bag. Get the one that can handle the below-freezing temperatures.
And guess, you are traveling in hot climates, use your wax or sarong or airplane blanket as a top sheet, and lay on top of the bag.
An inflatable pillow, of course, it solely depends upon you. I mentioned it here because pillows are sometimes a real necessity for some individuals.
Also the choice of taking your earplugs and eye cover rests upon you. If you feel its urge you may group them together and put it in your luggage, but of course, be organized to pack them.
Documents:
Be sure to carry all your important documents. Some on which are, driving license, manual, insurance card, an identity card, etc.
Better to carry a spare motorcycle key of your bike and keep it separately in your jacket's pocket of somewhere which is accessible and has the least chance of getting lost.
Tool Kit: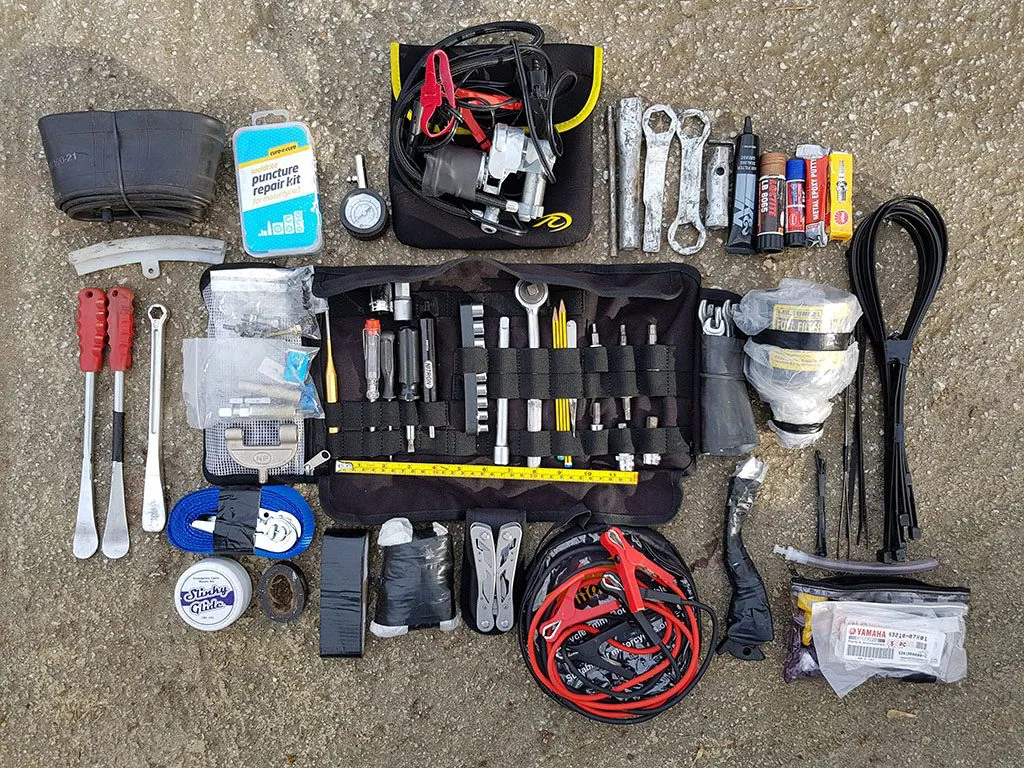 It is one of the most important things that are to be carried along. A tool kit essentially must have, Motorcycle chain care kit, tire care kit, wrenches, pliers, battery-o-rings, zip ties, flat head screwdrivers, etc.
It is highly recommendable to you to check your bike thoroughly before your set out to go for the ride. This is to be done to avoid any unwelcoming situation on road during your ride.
Other Essentials:
First aid kit, first in the most essentials list. Be sure to carry some medicines on your journey, like aspirin, Tylenol, anti-acid tablets, Neosporin, etc.
Pack some candles, a headlamp, torch, wipes, hand sanitizers, and trash bags. These are all I can recall as essentials. You may add some more according to your wish and demand.
The list is made on experience and some research which is done by interviewing some female motorcycle riders. If we have missed out something which you think is important pack it up too.
How do you fold clothes for a motorcycle trip?
So, here we unfurl the packing hacks to fit more clothes in less space. Check out the video, this is absolutely fantastic!
The main motto while packing for a motorcycle tour is to save space as much as possible. Here we enlist the easy and quick ways to fold your clothes, to save space.
Roll up your clothes and learn to fold your clothes properly.
Place the clothes below the heavy materials.
Stuff smaller clothes like handkerchiefs and socks inside the extra boots you carry.
Bound the interior of your bag with plastic to prevent leaking of water during rain. This will act as additional protection.
Lock up your valuables in a specific most safe place in your whole luggage, and carry the specific bag wherever you go.
It is recommendable to take some extra cash and keep it in a safe place in your luggage, maybe in your shirt or pants pocket which you are carrying.
Are you thinking of riding solo?
If you are, Top 8 Tips For Female Solo Traveller | Motorcycle Rider