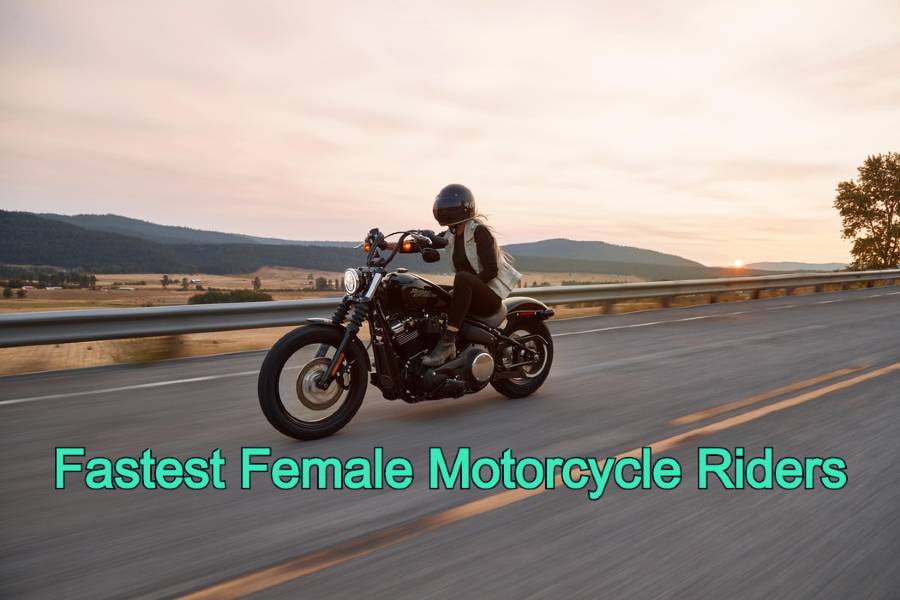 Motorcycling is a craze to chase speed, true motorcycling enthusiast imbibes the actual essence of throttling with speed. In the realm of motorcycling, not only males, but also females are craving and shaping careers in this field.
Some motorcycle riders like carving canyon roads on a sportbike while some prefer blasting over dunes on a dirt bike, while some are crazy about speed.
Female riders like Sarah Lezito, Anam Hashim are astonishing the world with their stunts, while Shayna Texter is an underdog amidst the male flat track racers.
Now, there are also some women who hold world records for riding motorcycles with great speed. The speed that is enough to highlight that, motorcycling is Not Really a manly thing.
The following are the fastest female motorcycle riders who attained great heights with their utmost dedication, determination, and perseverance, against the problems faced by female riders.
1.Valerie Thompson: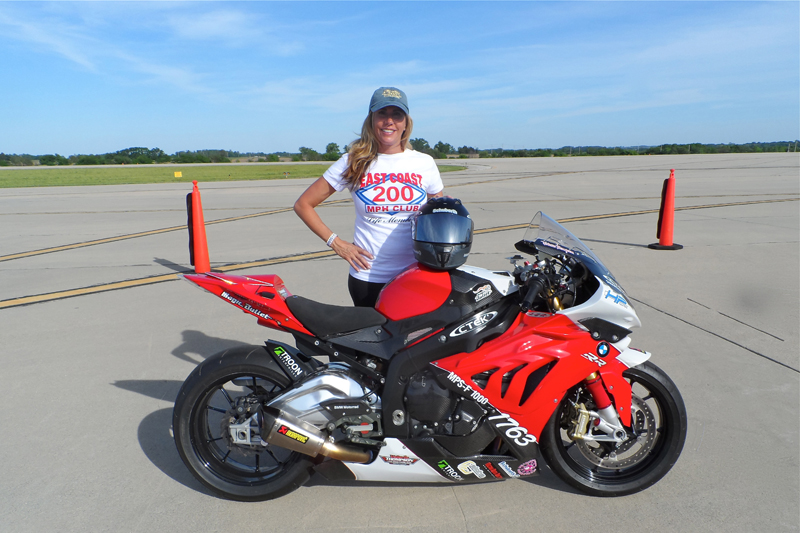 Who is Valerie Thompson?
Valerie Thompson an American woman who is known to be the fastest female motorcycle rider, who is seven times a land-speed record holder. She gained the title of 'World's Fastest Female Motorcycle Racer'.
She is an epitome of dedication, she proved when you are too determined and ambitious to chase speed, no matter how much hurt you get trying to fetch a record, lose your license or even get a card, yet you gain a positive pursuit and even a career.
Where is Valerie Thompson from?
Valerie Thompson was born in Tacoma, Washington, and is a resident at Scottsdale, Arizona.
Life and Career of Valerie Thompson:
It is mostly witnessed the racers belong from a family where either their parents or brothers belong from the racing or motorcycling forum but so was not the case in Valerie Thompson. She was basically an outsider to this world of motorsport, which was predominantly dominated by the masculine gender.
Valerie Thompson was 32 when she took her first motorcycle ride, and with hard work turned on to a full-on racing career, marking incredible achievements throughout her journey of being America's Queen of Speed.
Life of Thompson before she stepped into the Realm of Motorcycling:
In the year, 1999 Valerie Thompson worked in a bank as a financial service provider, for over ten years of her life. One day she takes a ride as a passenger on her friend Harley's Motorcycle, which opens her eyes and mind towards new possibilities. The possibility to choose and challenge herself to start a racing career.
She got herself a bike on that very year, and that accelerated her career of being one of the famous Motorcycle riders worldwide. In the same year, she switched to a Harley Davidson Sportster and subsequently moved up to bigger Harley. She attained a momentum on a particular career from a speck. She traded her Harley Davidson Sportster for Fatboy, in three months.
In the initial stage of her career, she was noticed for riding speedy on her motorcycle on the streets. It reflects that she had a habitual liking for speed. Witnessing her speed chasing story on the streets, her friend suggests, her to take the speed for legal and thereby Thompson, took her motorcycle to the track.
Valerie Thompson's First Race
In 2006, at Phoenix International Raceway, she performed her first-ever race named, 'Run What Ya Brung' – a drag racing event, running one-fourth mile drags in her Softail Harley Davidson Fatboy. This is where she gained more confidence and took her hobby more seriously.
Then she raced in the All Harley Drag Racing Series and scaling up the ladder to NHRA Pro Stock Motorcycle.
Hence Drag Racing gave her a lot of series to ride in and she eventually made her on of her best record of 7.05 seconds and 187.42 MPH in the one-fourth mile, which is something really crazy.
Though she thinks the speed was not enough to get the best out of herself.
Thereafter she received an opportunity for racing at high-speed, flat out run at the prestigious Bonneville Salt flats. And she grabbed the very opportunity.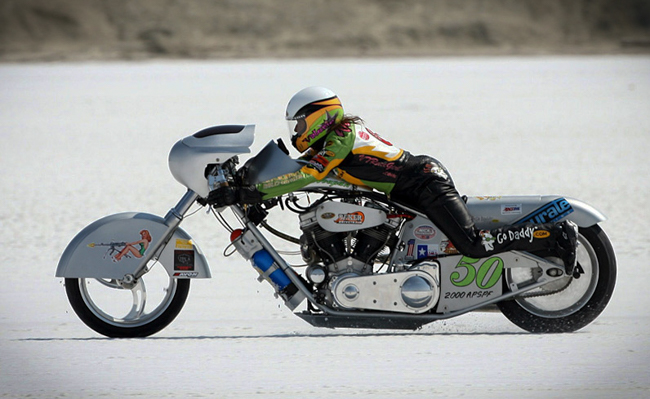 The transition of Valerie Thompson from a Drag Racer to Land Speed Racer:
With the change in course of the track, her enthusiasm aggravated, she received her a BMW S1000RR, which was made and designed to go as fast as possible. And thus, Thompson seemed to have found the right way to her will.
The salt track with the highly engineered BMW S1000RR took Valerie's interest and passing to a whole different level.
Moreover, she had never ridden a superbike before, she only had Harley. So, the superbike added a thrill to her journey.
After some time, she thought of building her own team and gave up on Bonneville. She aims to build her own team with BMW's flagship superbike and bought a 2012 model within next few days.
She kept on being sponsored by BMW with a full race kit and other goodies.
With all the support and dedication she reached over 217 MPH.
The peak of Valerie Thompson's Career:
After 5 years of her start to the career as a land speed racer, she was brought back to the same salt flat but this time she was allowed to race as fast as she wished to. And the history of 'World's Fastest Motorcycle Racer' was created by Valerie Thompson, in the same salt flat, she began her journey.
But this time, she has a 'streamliner' instead of BMW S1000RR. A Streamliner looks like a rocket-ship, skating along the ground.
The 7 Streamliner, had more than double horsepower compared to any of her drag racing motorcycles. The 7 streamliners were designed by Denis Manning.
The streamliner helps her mate to create the world record and new threshold of 300MPH.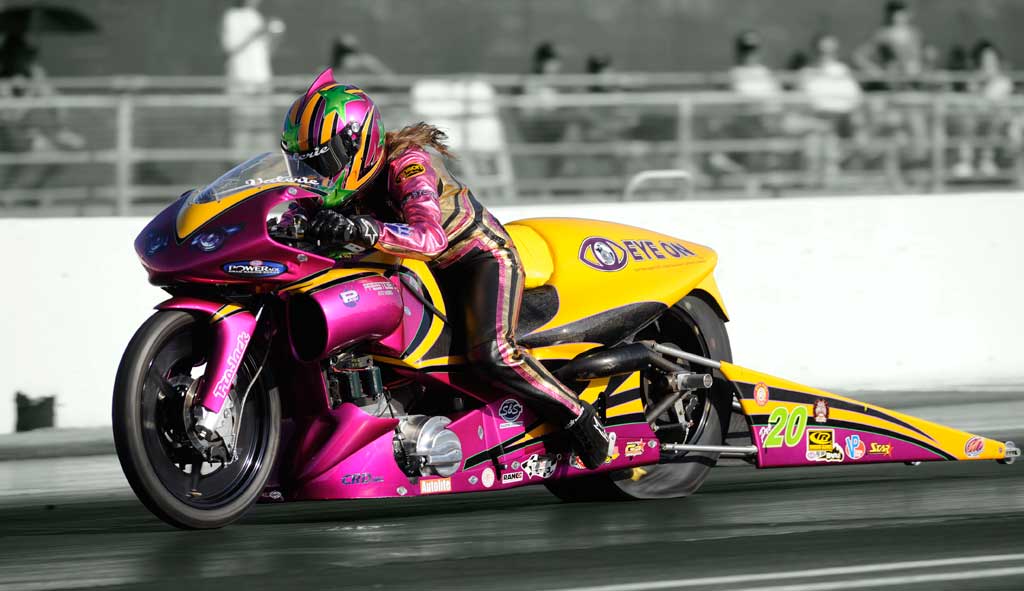 Achievements: of Valerie Thompson
She is an independent, brave woman who created history for being the Fastest Motorcycle Racer.
She is a member of Sturgis Motorcycle Hall Of Fame.
She was also ranked in Dealernews' Top 100 Leaders in Powersport.
In 2013 she also was featured a racing career and achievements, name Why We Ride, in the Discover channels mega speed, and even in Go Daddy commercial during the Super Bowl.
She says, she has more to achieve and become the most well known female racer in the United States and become a role model to the young women who are motorcycle enthusiasts and aspire to be motorcyclists.
2. Leslie Porterfield: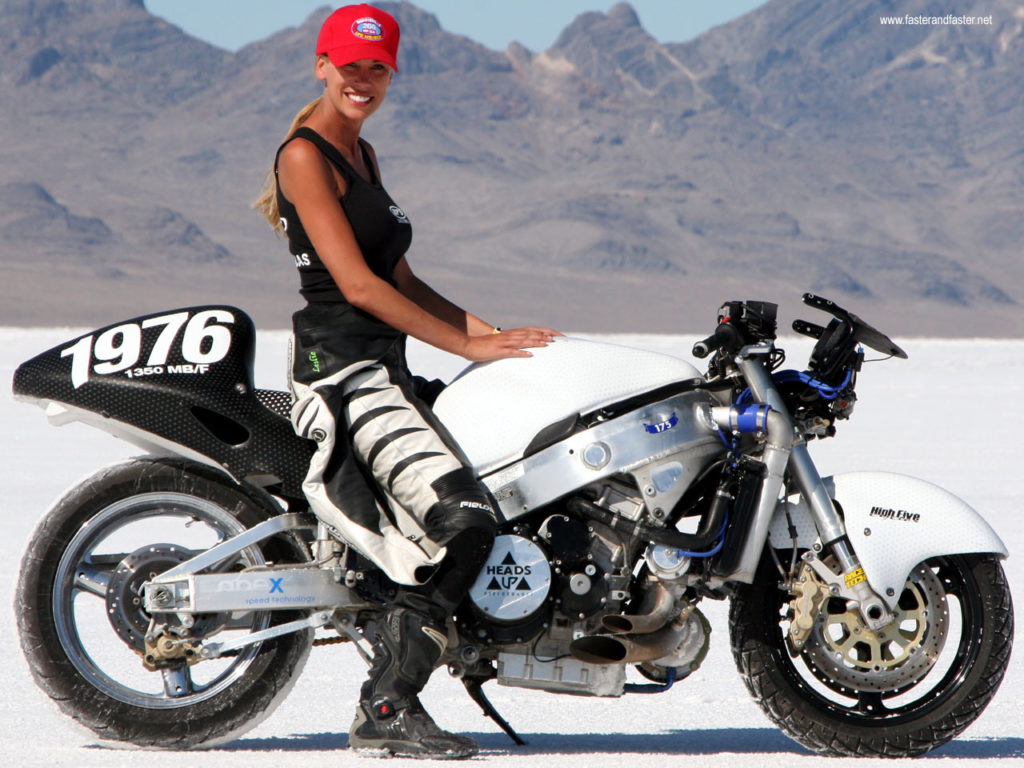 Who is Leslie Porterfield?
Leslie Porterfield is an independent American woman, who is a motorcycle enthusiast and was named as the 2008 racing Female Rider of the year by the American Motorcyclist Association.
She started riding motorcycles since her mid-teens.
She also holds a record at Guinness Book of World Records.
Where is Leslie Porterfield from?
Leslie Porterfield is from Dallas, Texas.
Life and Career of Leslie Porterfield:
Leslie Porterfield is a motorcyclist who holds three land speed records and is a member of the prestigious Bonneville 200 MPH club. She is a co-owner of High Five Cycles. High Five Cycles, is a used motorcycle dealership in North Dallas.
She is a Record holder at Guinness Book Of World Records, for being the Fastest Female Conventional Motorcycle Rider. She holds a land speed record of 232.52 MPH at Bonneville Speedway.
In the Discovery Channel show "Speed Capital of the World: Bonneville", her trials and afflictions were documented for creating a record at Speedweek.
She writes for Motorbikes India online magazine.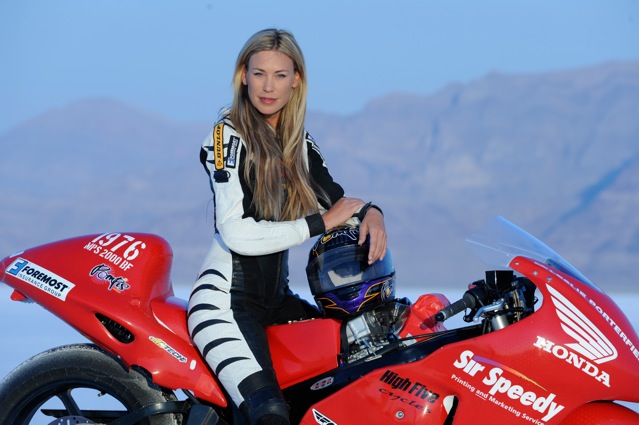 Achievements of Leslie Porterfield:
Record holder in Guinness Book of World Records.
Fastest Conventional Motorcycle Rider (Female).
Co-Owner of High Five Motorcycles.
Member of Bonneville 200 MPH.
Leslie Porterfield is a powerful woman who makes her own identity battling against the problems of female motorcycle riders and achieved a significant position in the world. She is an epitome of dedication and hard work. She is a role model for many female riders who aspire to be a motorcycle rider. She also helps other riders by sharing and suggesting stories and tips through the Motorbikes India Online Magazine.
3. Ana Carrasco: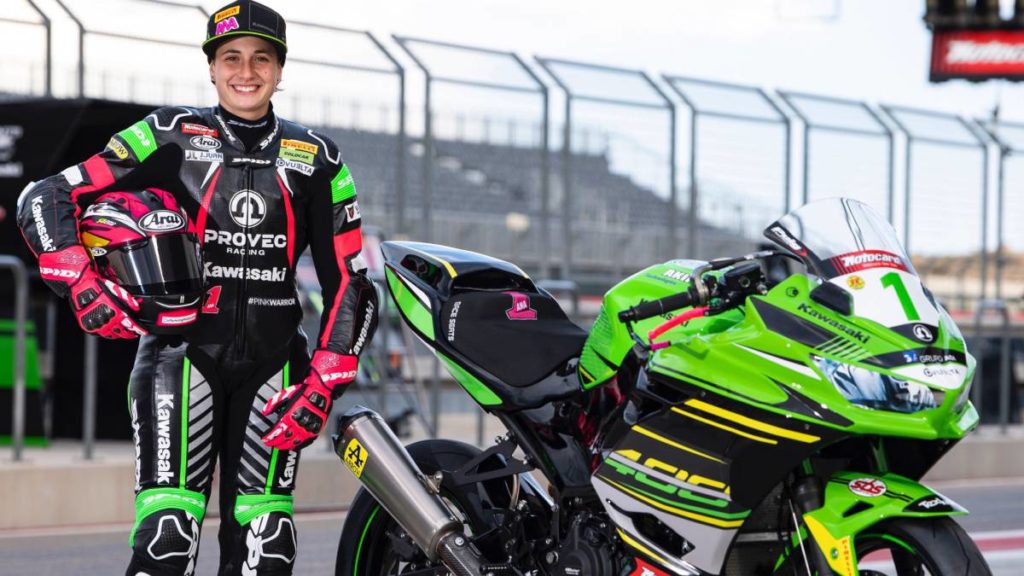 Who is Ana Carrasco?
Ana Carrasco is a Spanish Motorcycle Racer, who was the first woman to lead a Motorcycle Road Racing World Championship. She is the fastest female motorcycle racer of all time.
Where is Ana Carrasco from?
Ana Carrasco is from Murcia, Southern Spain.
Life and Career of Ana Carrasco:
Ana Carrasco started her riding journey since she was three and as a kid, in a minibike, she made remarkable victories in 125cc Extremeño Speed Championship and the 125cc Murcia-Pre-GP Championship in 2009.
In 2011, she switched for FIM CEV International Championship, and she was the first female to score point in the series. This marked the beginning of her incredible journey.
She applied for the CEV Moto3 Championship in the following year.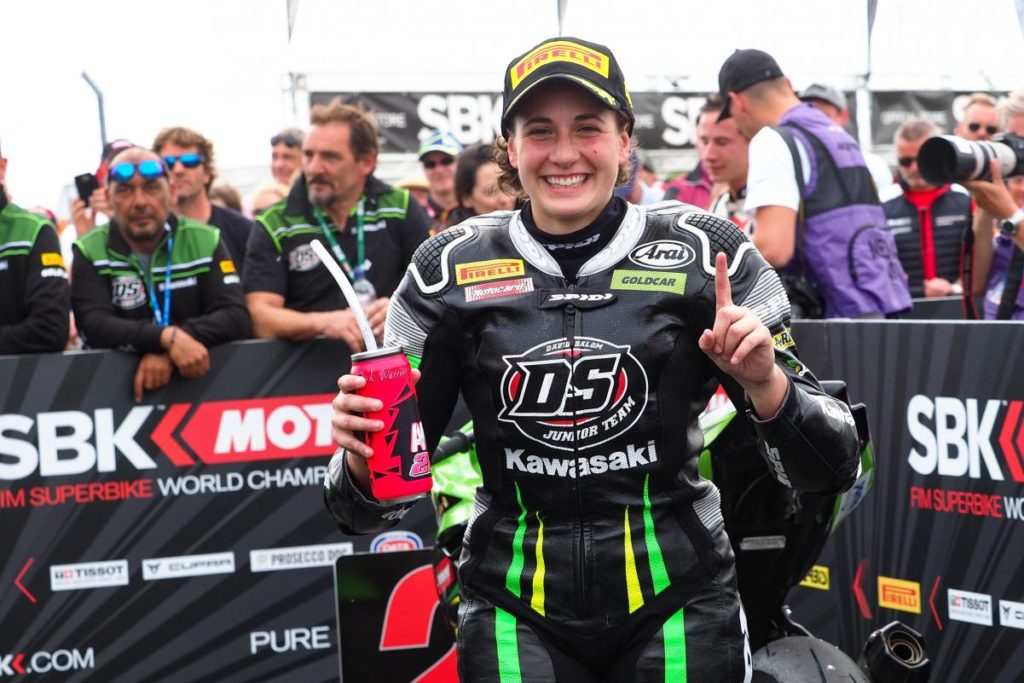 Carrasco was the first woman to score point in the moto3 World Championship Series, by finishing at Fifteenth Malaysian Grand Prix, and repeated enrolling the 8th position at the end of the series.
2017 ended with the first victory for a woman in a World Championship solo motorcycle race, in the seventh round at the Algarve International Circuit.
By the start of the 2017 season, despite occasional outstanding performances by women in the male-dominated sport of motorcycle racing, no female had won a world championship race – perhaps unsurprisingly given the additional barriers they faced.
But things changed when Ana Carrasco, a young adult female stands out on top in an epic drag race to the finish line in the World Supersport 300 Championship race at Portimao in Portugal.
Thus, she becomes the first female motorcyclist to win the motorcycle road racing world championship race and creating a history.
Ana Carrasco claims, he is a rider first and then a female, thus motorcycling or racing should never be judged and fragment on the basis of gender. She is truly an inspirational figure and inspires thousands of females to choose motorcycling over any excuse or boundations.