Mountain terrain often possesses the potential of being the most thrilled and adventurous destinations for motorcycle riders. Ask any motorcycle enthusiast about their dream destination to travel on a motorcycle. And it is ought to be somewhere high up the altitude scale.
The curvy roads, mesmerizing scenic feast, the fog-covered roads, make up the perfect adventurous ambiance which has the ability to attract any motorcycle lover to fly through such mountain roads.
Motorcycling on mountains demands a specific type of motorcycle, with integrated balancing and control mechanisms when compared to other street or cruiser motorcycles. The motorcycle has specialized gripped tyres for mountain rides.
Featured with a set of purpose-balanced tires that aren't too slick, an adventure motorcycle can handle a long-haul tour, then confidently set off down a mountain road in search of a quality campsite
Based on researches and a few personal interviews and experiences, we enlist here, the best motorcycles for riding on mountains. These motorcycles can definitely stand out as your best companion for experience the thrills of mountain curvy roads.
Following are the best motorcycles for riding on mountains:
1. Triumph Tiger 800 XCX: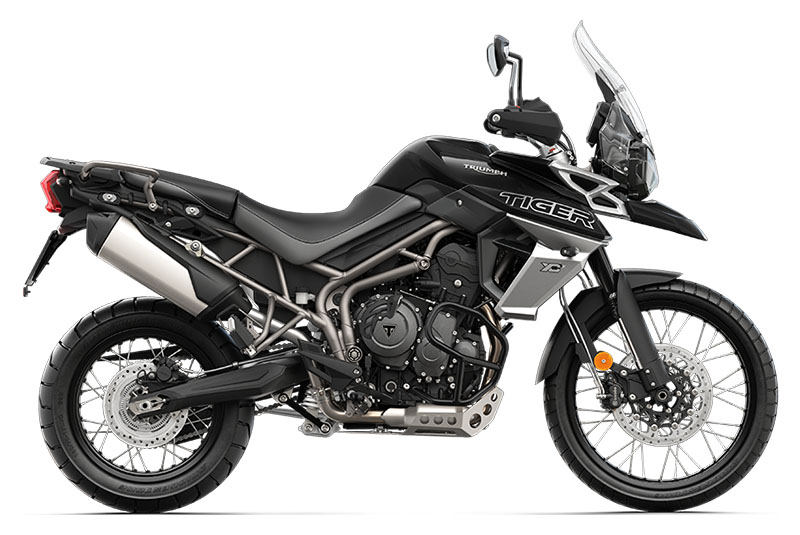 Triumph Tiger, is a stunning ride with larger-displacement, multi-cylinder motorcycles developed for on- and off-road travel and are capable of covering great distances while providing the rider with relative comfort that takes you to any adventure with off-road poise and performance.
With the integrated instant responsive technology, improved riding position, a smart look of Tiger 800 makes the motorcycle absolutely one of the best choices for riding on the mountain.
Specifications of Triumph Tiger 800 XCX:
Manufacturer: Triumph
Engine type: Liquid-cooled, 12 valve, DOHC, in-line 3-cylinder
Displacement: 800 cc
Maximum torque: 79 Nm @ 8,050 rpm
Seat height: 840 mm -860 mm
Fuel capacity: 18.93 Litres.
Weight: 205 Kg
Height: 1390 mm
Width: 805 mm
Length: 2215 mm
Click here to know the detailed specification of Triumph Tiger 800 XCX
It is an amazing two-wheeler, with new generation engine, and low down power and torque. It has the best 5 riding modes, that include – Off-Road, Off-Road Pro, Rain, Sport, and Road. Choosing the right mode enables maximum safety and a comfortable journey.
The model is a real beast that is indestructible and can trounce in any terrain. This motorcycle was first produced in 2010, and it continues to hold the prestigious position even today. The other advanced features make it one the best choice for motorcycle rider who seeks adventures.
2. Royal Enfield Himalayan: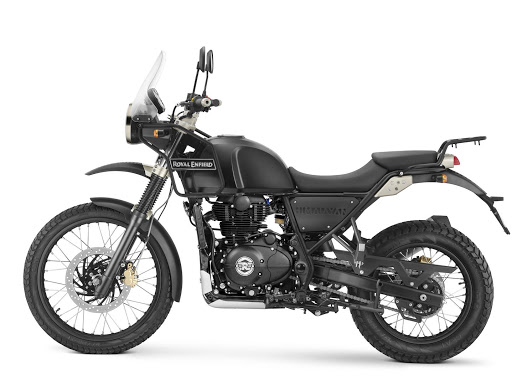 Himalayan is one of the most popular products of Royal Enfield, and the stands out as a fantastic adventure motorcycle. It is made of an all-new engine and terrain-tested suspension. The motorcycle keeps you grounded and harmony with rocks and roads with its half-duplex, split cradle frame and long-travel suspensions.
Manufacturer: Royal Enfield.
Engine type: Single Cylinder, 4 Stroke, Air-cooled, SOHC, Fuel Injection
Displacement: 411 cc
Maximum torque: 32 Nm @ 4250 rpm
Seat height: 800 mm
Fuel capacity: 15.14 Liters
Weight: 191 Kg
Height: 1360 mm
Width: 840 mm
Length: 2190 mm
Click here to know more about Royal Enfield Himalayan
The best adventurous motorcycle with the best value makes it a great deal. Royal Enfield Himalayan is the least expensive in the realm of Adventure motorcycles with great features.
The engine of the Himalayan delivers high torque and power at lower RPMs which is usable for smooth riding at lower speeds in higher gears, making it easier to climb hills or maneuver through traffic. It is equipped with dual-sport tyres with nine inches of ground clearance.
The beauty is in the functionality. The engine is actually very attractive. The machine is totally reliable and will go anywhere getting around 70 mpg. It is also available in color options and switchable ABS system, which enables the rider to switch off Abs at the rear wheel, to experience an engaging ride, and for better control when riding in undulated terrain.
3. BMW R1250 GS Adventure: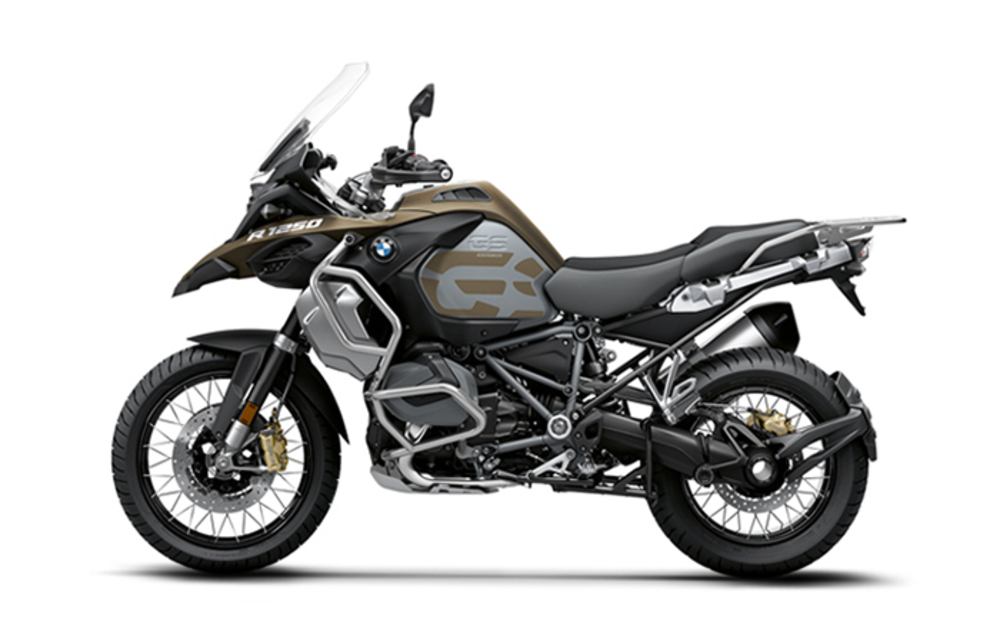 It is one of the motorcycles which is a result of continuous up-gradation and modifications. And truly it is worth the wait. It is the most stylish and iconic in the list of adventure motorcycles. It is designed to face up to anything that comes up your way when riding, be it, bad surfaces, difficult weather, or riding in remote areas.
BMW's proprietary variables, throttle control, suspension compensation Dynamic ESA, camshaft control, and dynamic traction control allows it to transverse vast expanses of wilderness. The technology of the BMW R1250 GS is adopted on all the R series Boxer Model.
Manufacturer: BMW Motorrad.
Engine type: Liquid Cooled boxer, twin with variable valve timing VVT
Displacement: 1254 cc
Maximum torque: 143 Nm @ 6250 rpm.
Seat height: 850 mm – 870 mm
Fuel capacity: 20 Liters.
Weight: 249 Kg
Length: 2,207 mm (86.9 in) 2,270 mm (89 in) (Adv)
Width: 895 mm (35.2 in) 980 mm (39 in) (Adv)
Height: 1,450 mm (57 in)
Click here to know more about BMW R1250GS
This is manufactured in Berlin, Germany, a constant-mesh 6-speed gearbox, hydraulically operated wet clutch, and electronic fuel injection, offer the BMW's most advanced systems in one, quintessential platform, pairing power and passion with relative ease to keep the bike's power under control.
BMW inculcated a larger and more advanced engine, and integrated electric features, for better works. It the best adventure motorcycle BMW has to offer. The motorcycle assures a 4% fuel economy compared to other adventure motorcycles.
4. Suzuki V-Storm 1000: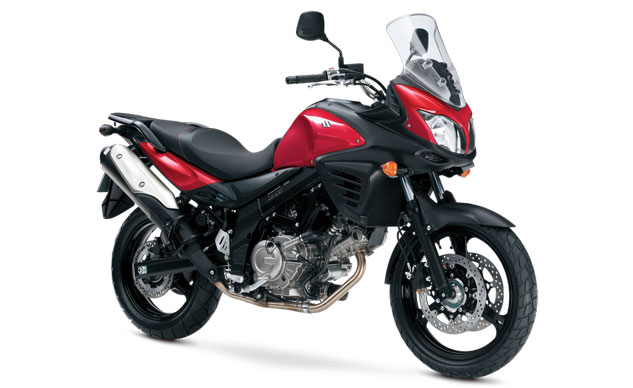 The Suzuki V-Storm 1000 is also known as DL-1000 and is a dual-sport motorcycle. It is an Ace motorcycle when it comes to adventure-oriented motorcycles. The V-Storm 1000 is being manufactured since 2002 by the Japanese Company. It is simple to live by and equipped with fantastic two-stage traction control, and adjustable suspension. Also, the V-Storm 1000 does not have a bash plate-like other motorcycles.
Manufacturer: Suzuki
Engine type: liquid-cooled 4-stroke 8-valve DOHC 90° V-twin
Displacement: 996 cc
Maximum torque: 103 Nm @ 4000 rpm
Seat height: 851 mm
Fuel capacity: 22 Liters
Weight: 228 Kg
Height: 1395 mm
Width: 910 mm
Length: 1535 mm
Click here to know more about The Suzuki V-Storm 1000
Styling-wise, the Suzuki V-storm 1000 has made a prominent place, by its trendy Adventure motorcycle looks, but with linkage back to the Suzuki DR750S model f 1998. It is equipped with LED taillight, a 12V DC Socket for electronic accessories, top case, optional removable side cases. The manufacturing company offers color choice, from Glass Sparkle Black, Glass Desert Khaki to Candy Daring Red.
Motion Track Anti-Lock and a Combined Brake System that's been conceptualized are few of the features to enhance rider's assistance that ensures the best possible safety to the rider no matter in which surface or terrain he is riding. The V-storm is one of the most intuitive adventure motorcycle available in the market.
5. KTM 790 Adventure R: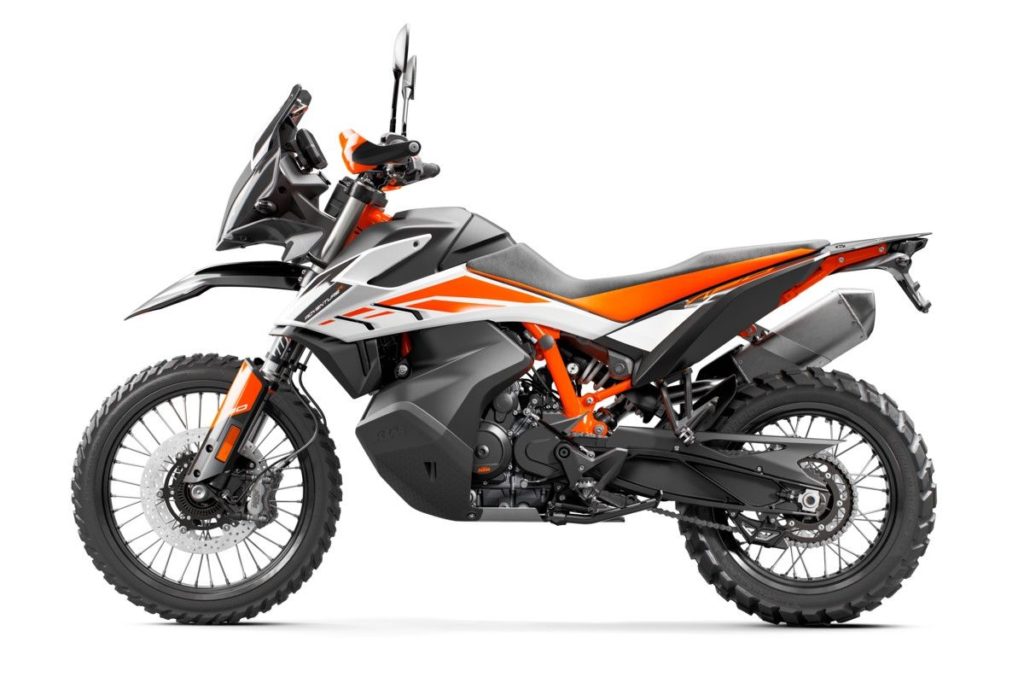 It is developed from the KTM off-road race DNA, which marks it as one of the best adventure motorcycles which are likely likable for riding on mountains. It is equipped with the necessities to run and rage through every extreme. Featuring, agility with an impressive fuel range. It constitutes a powerful, compact, smooth and reliable engine, for a great feel to the rider.
It can be used for traveling distant off-road terrains, as it is featured with easy to use riders aid and practical ergonomics. It has the LC8c engine, which is the reputed compact performing engine in the market.
Manufacturer: KTM
Engine Type: Four-stroke, Parallel Twin Cylinder, DOHC, 4Valves per Cylinder.
Displacement: 799 cc
Maximum torque: 88Nm
Seat height: 880 mm
Fuel capacity: 20 Liters
Weight: 189 Kg
Click here to know more about KTM 790R
It was made with the intention of discovering new roads and riding on them without being concerned about the surface. For riding on all surfaces and in extreme conditions, It is featured with Motorcycle Traction Control (MCT), TFT Dashboard, and enhanced with ride mode selection.
The Ride mode facilitates, Street, Rain, Off-road, and rally mode (optional). In addition to these, it also has, Cornering ABS with off-roading ABS mode, and Motor slip regulation which makes it ideal for riding in mountain roads.
It is characterized by an off-road setup, that includes hand guards and a one-piece, seat for easy rance of motion. The aluminum handlebar can be mounted in six different positions on triple clam and can be made 30 mm adjustability, the rider's best comfort.
6. Honda CRF1000L Africa Twin Adventure Motorcycle: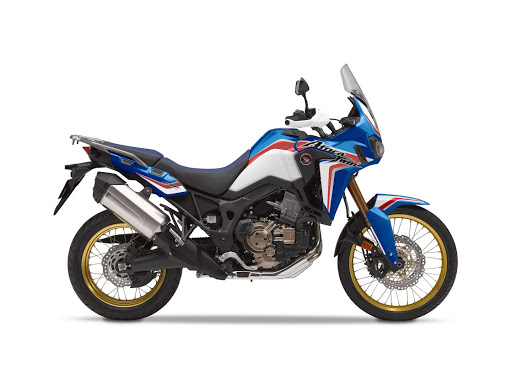 It is a parallel twin-powered adventure bike that carries the dirt-worthy CRF1000L model designation, has been a great motorcycle. It elegantly defines the best of adventure and mountain motorcycle. It is one of the very loved and well-reviewed adventure motorcycles.
With an amazing balanced chassis, Africa Twin is a combination of an 8 valve parallel twin motor and an impressive 250mm of ground clearance. The Twin Africa accounts for 20% of the open class adventure motorcycles sold in the year 2017.
Manufacturer: Honda
Engine type: Liquid-cooled, transverse parallel twin 270° crank, SOHC, 4 valves per cylinder.
Displacement: 998 cc
Maximum torque: 98 Nm @ 6000 rpm
Seat height: 900 mm
Fuel capacity: 24.11 Liters.
Weight: 243 Kg – 253 Kg
Height:1570 mm
Width: 929 mm
Length: 2340 mm
Click here to know the detailed specification of Honda CRF 1000L Adventure Motorcycle
Honda CRF1000L Africa Twin Adventure Motorcycle features, added ground clearance, enhanced creature comforts, and increased suspension travel. It has a larger fuel tank for extended range. The models are also characterized by the integrated engine, riders interface, and electronic as it continues to provide a lightweight and powerful combination.
It has a compact two-piece radial-mount, four-piston front brake, calipers. It has a wave floating rotors front and rear.
This motorcycle ensures maximum safety and this comes equipped with ABS and Honda selectable Torque Control HSTC, in other words, we can say Traction control
7. Yamaha Tracer 900: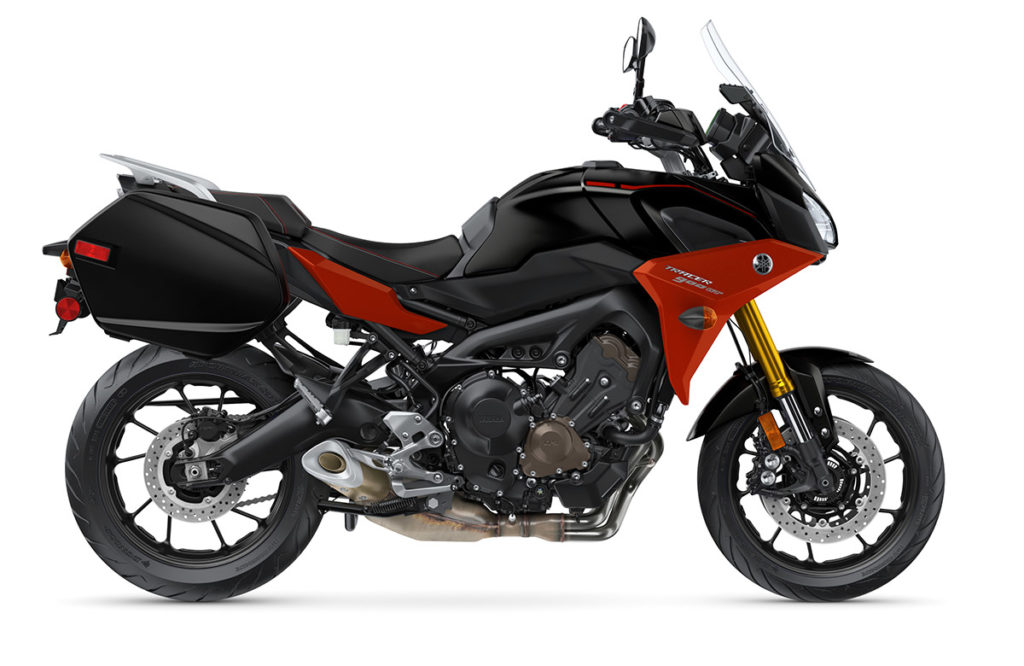 It is a sport-touring mountain motorcycle. It is known by FJ-09 in North America; MT-09 Tracer in Japan, South America, Australia, and New Zealand.
With the addition of a partial fairing and windscreen, a bigger fuel tank, handguards, center stand, a 12-volt power socket the technology directly comes from MT-09. The motorcycle has 3 cylinders cross-plane engine comes from MT-09.
It is also featured with switchable traction control, three category riding modes, and a revised fuel map.
Manufacturer: Yamaha
Engine type: liquid-cooled 4-stroke 12-valve DOHC inline-3
Displacement: 847 cc
Maximum torque: 87.5 Nm @ 8500 rpm
Seat height: 845 mm
Fuel capacity: 18 Liters
Weight: 210 Kg
Height: 1345 mm
Width: 950 mm
Length: 2160 mm
Click here to know more about Yamaha Tracer
It takes sport touring to whale different elevations. With its sport-oriented amenities which include a reshaped height-adjustable windshield, newly refined bodywork, an adjustable riding position with new seats.
It serves as an all-purpose two-wheeler, be it for daily ride, weekend gateways, or for short trips. It has Yamaha's exclusive ride-by-wire throttle system, derived from MotoGP technology. It can maintain dirt and tar alike. The motorcycle is good for hill tripping and mountain tripping and it is claimed to be one of the most comfortable motorcycles for long rides.
8. Ducati Multistrada 1260 Enduro: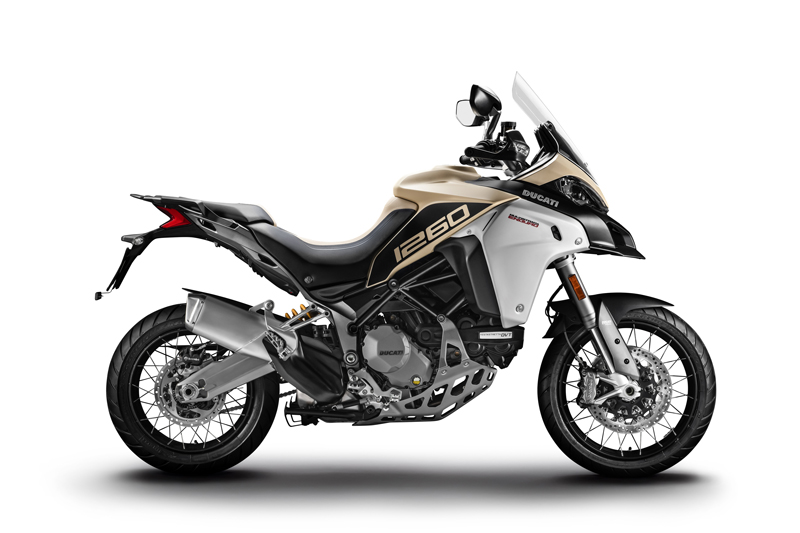 Ducati Multistrada 1260 Enduro is a great combination of performance and comfort that shapes your rides unforgettable both on-road and off-road. It leaves no doubts about the Mutistrads track capabilities. It revolves around total versatility.
It is Developed and fine-tuned by incredible Ducati engineers, the DVT system optimizes performance and fluidity of delivery at all end speed levels and that adds the incredibility to the motorcycle.
Manufacturer: Ducati
Engine type: Testastretta DVT L-twin
Displacement: 1262 cc
Maximum torque: 94 ft/lbs @ 7500 rpm
Seat height: 861.06 mm
Fuel capacity: 29.90 liters
Weight: 254 Kg
Height: 880 mm
Length: 2200 mm
Click here to know more about Ducati Multistrada 1260 Enduro
The new Multistrada 1260 Enduro expands the concept of adventure with a new Ducati Testastretta DVT 1262 engine with a full torque curve and a renewed chassis for greater ease of riding at low speeds more skillfully. It holds the quirky Italian style.
9. Kawasaki Versys 1000LT: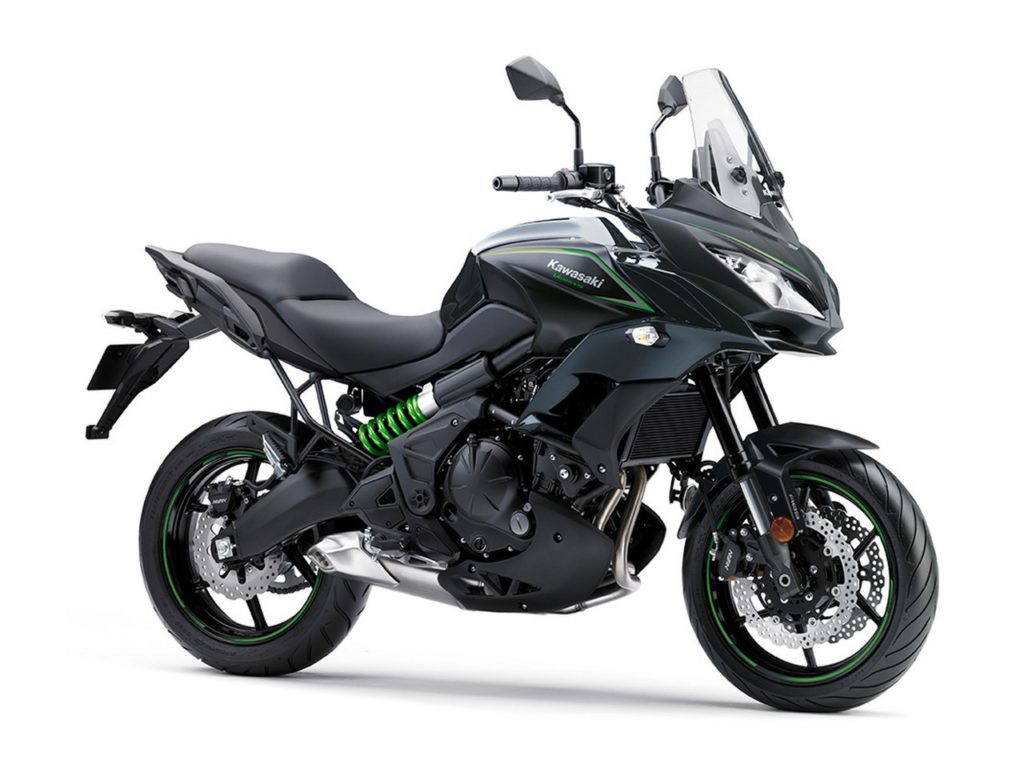 It is one of the least priced mountain sport motorcycles. This motorbike comes powered by a 1043cc inline four-cylinder liquid cooling engine that gives 118bhp of power and 102 Nm torque, comes mated to a 6-speed transmission. The bike ensures safety measures of the rider is a dual-channel ABS. It has a dual channeled anti-lock braking system and traction control. This motorcycle is ideal for mountain and adventure riding and to taste the essence f adventure sporting.
Manufacturer: Kawasaki
Engine Type: Four-stroke, transverse four-cylinder, DOHC, Four Valves Per Cylinder
Displacement: 1043 cc
Maximum torque: 102 Nm @ 7700 rpm
Seat height: 845 mm
Fuel capacity: 21 Liters
Weight: 239 Kg
Height: 1405 mm
Width: 900 mm
Length: 2235 mm
Click here to know more about Kawasaki Versys 1000LT
10. Triumph Scrambler 1200 XE: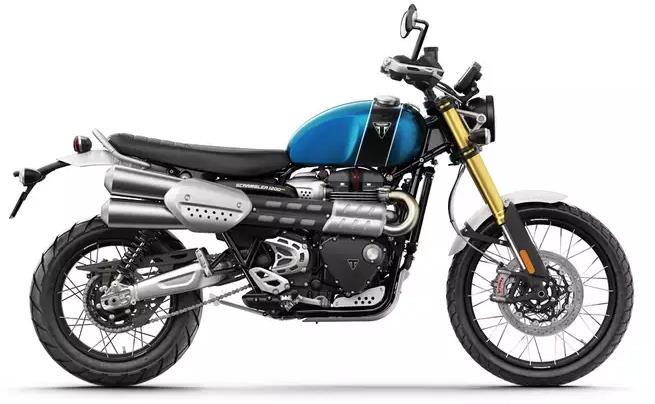 It is one of the most favored adventures touring motorcycles by the riders. It is an iconic off-roading motorcycle. It is Triumph's one the best Off-roading two-wheeler. It sets up a new benchmark, that serves a dual purpose capability and modern custom style.
Manufacturer: Triumph
Engine type: Four Stroke, 270° crank angel Parallel-twin, SOHC.
Displacement: 1200 cc
Maximum torque: 110 Nm @ 3950 rpm
Seat height: 870 mm
Fuel capacity: 15.8 Liters.
Weight: 207 Kg
Height: 1250 mm
Width: 905 mm
Length: 2325 mm
Click here to know more about Triumph Scrambler 1200 XE
The Triumph Scrambler 1200 XE characterizes the best leading standards, of rider, focussed technology.
11. Honda CRF 450L: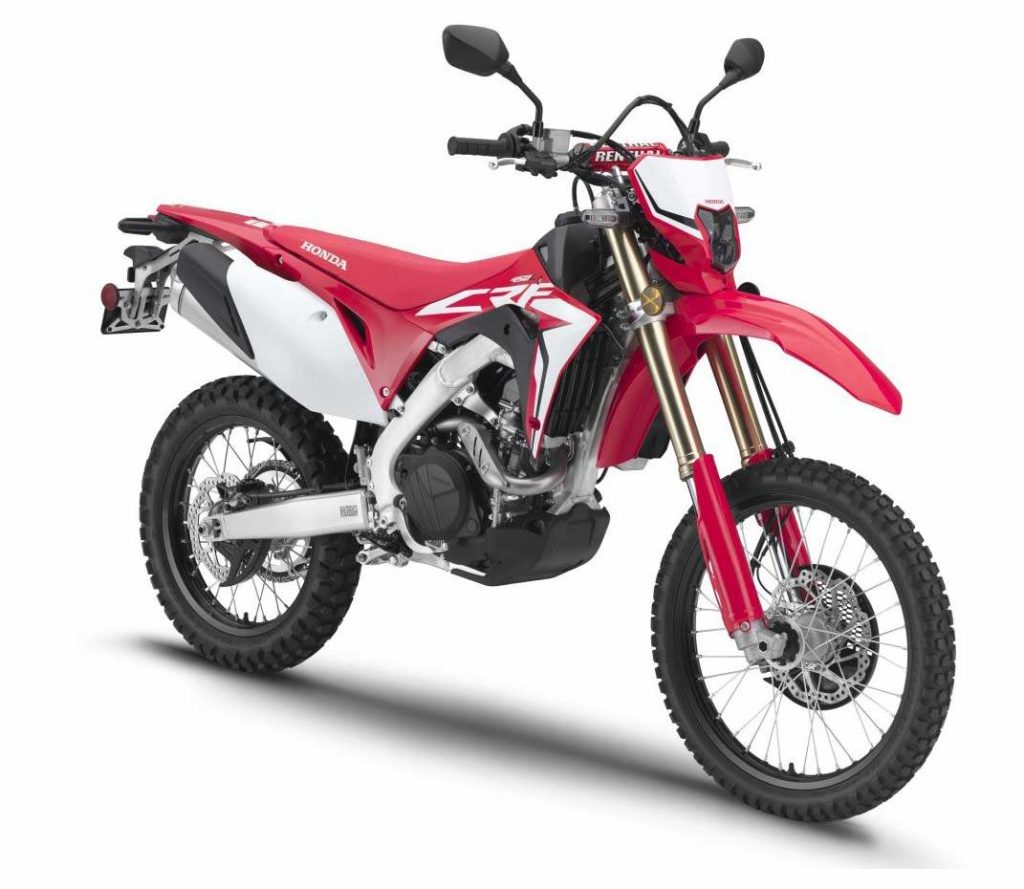 It is a slight replication of its fellow the 450R, but the few features make it more versatile both daily commute as well as off-roading or touring on mountains. It defines reliability and refinement and great quality assurance from Honda. It is a true trail to the trail machine.
Manufacturer: Honda.
Engine type: Honda Four Stroke, Single Cylinder, Unicam, OHC, Four Valves
Displacement: 449 cc
Maximum torque: 48 Nm @ 7000 rpm.
Seat height: 942 mm
Fuel capacity: 7.6 Litres
Weight: 131 Kg
Height: 1084 mm
Width: 827 mm
Length: 2191 mm
Click here to know more about Honda CRF 450L
Honda's famous concentration, on the center of mass engineering help, to keep the center of gravity low for the CRF 450L. The vibration is reduced, by the gear-driven counterbalance, and it also drives the water pump. Its 18 inches rear wheels give an amazing choice for on or off-road riding.
12. BMW G310 GS: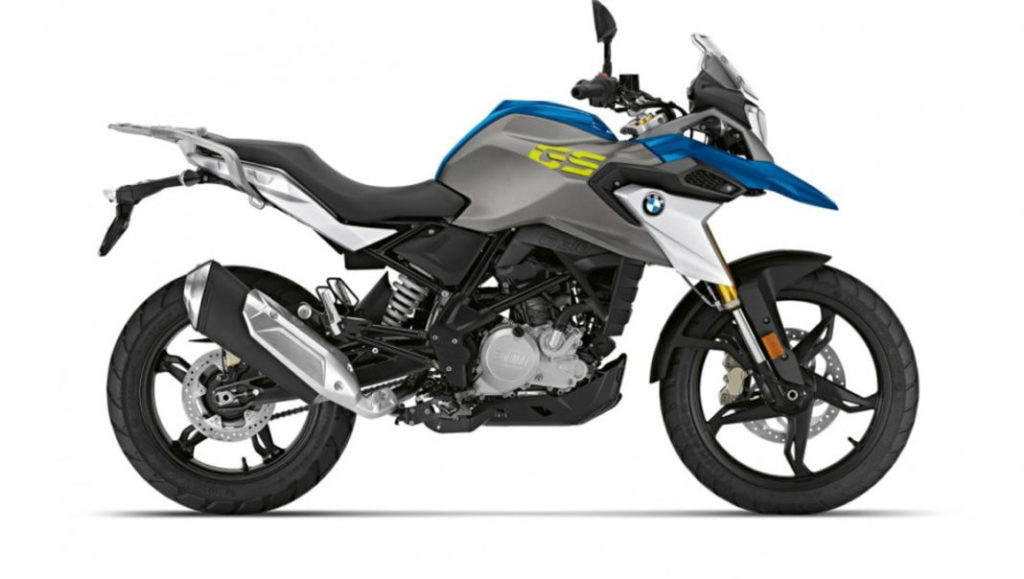 BMW G310 GS is a compact and adventure capable bike and earns fame when talking about motorcycles for mountain roads. Some of its top features include rambunctious orientation, powerful liquid-cooled, and its brilliant design. Its single-cylinder four-stroke eng9ne along with the pleasant capacity assures great rideability.
Manufacturer: BMW Motorrad.
Engine type: Honda Four Stroke, Single Cylinder, Four Valves, wet-sump lubrication.
Displacement: 313 cc
Maximum torque: 28 Nm @ 7500 rpm.
Seat height: 835 mm
Fuel capacity: 11 Litres
Weight: 169.5 Kg
Height: 1230 mm
Width: 880 mm
Length: 2075 mm
Click here to know more specifications about BMW G 310GS
Be it for your everyday adventure on the regular city roads or weekend's thrilling adventure, BMW G 310GS, can be an absolute pleasure for both the case. Forest trails, rough roads, curvy paths, the G 310GS lives up to all the expectations.
It embodies the famous GS Spirit. Intensive riding is assured by the well known GS ergonomics. It emphasizes providing additional protection when riding on an undulating surface. The firm steel grille bridge frame of the vehicle supports riding stability.
Hence, it can b concluded that the BMW G310 Gs is a fine and unquestionable mixture of comfort, dynamics, and quality.
13. KTM 390 Adventure: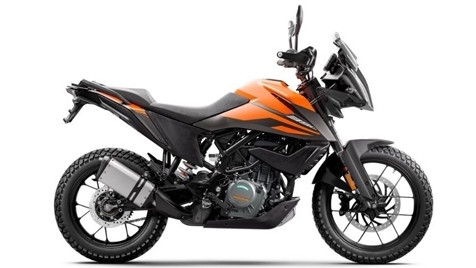 The KTM 390 Adventure has the ability to be a partner to your thrilling adventure rides to mountains on a two-wheeler. It stands as a unique kind from the KTM Adventure series. The engine is featured with an electric starter and is capable of achieving incredible peak power.
It is equipped with light weighing, exhaust system crafted with precision, consists of a stainless steel header pipe, and pre muffler, which flows perfectly into a slim silencer.
Manufacturer: KTM
Engine type: Four Stroke, Single Cylinder, DOHC with finger followers, Four Valves,
Displacement: 373 cc
Maximum torque: 35.3 Nm @ 7000 rpm.
Seat height: 855 mm
Fuel capacity: 14 Litre
Weight: 158 Kg
Height: 1400 mm
Width: 900 mm
Length: 2154 mm
Click here to know more about KTM 390 Adventure
Multifunctional dashboard, with full color 5 inch TFT display, which offers a bright and clear display. It offers a configurable menu switch on the handlebar. The other feature of the motorcycle that is Cornering ABS, which allows, the rider to utilize the full power of the brakes.
The Motorcycle Traction Control of KTM 390 Adventure, reduces the engine output with an extremely smooth. It is made for a fantastic blend for street riding and off-roading.
14. YAMAHA SUPER TENERE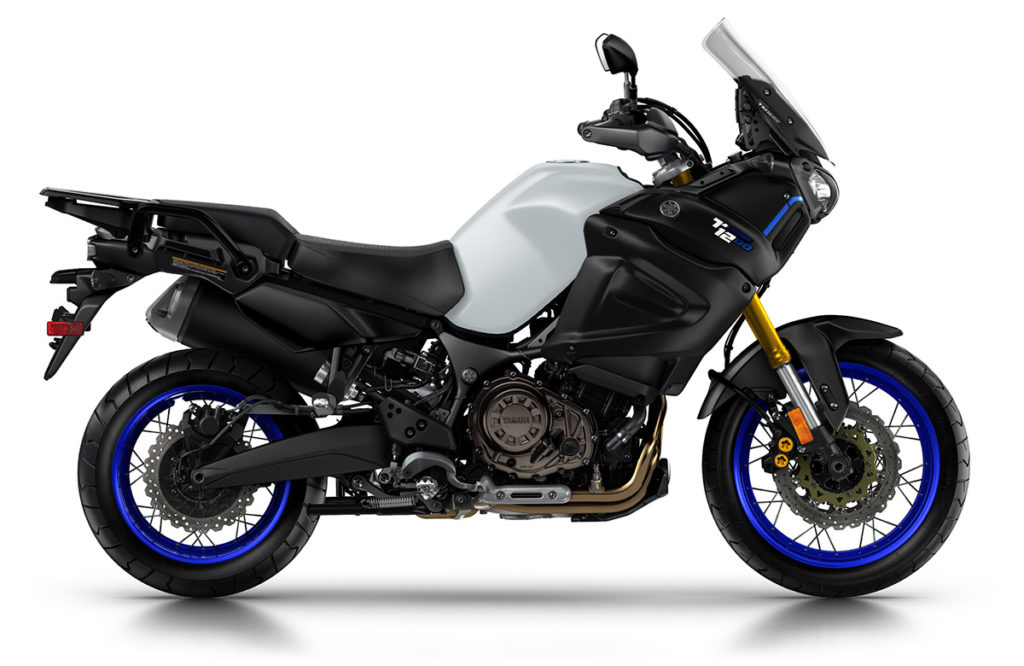 The Yamaha ticks all the specification tiles when it comes to a sports adventure motorcycle. Its engine is made in a way to give it a feel of a big-bore thumper, with fewer vibrations. It is characterized by twin-downdraft throttle body fuel injection for optimum performance.
It is not capable of working skillfully for extreme clearance as its counterparts; but what it loses in off-road capability, it more than makes up for on the blacktop, ensuring a well-balanced architecture that's as responsive as they come.
Manufacturer: Yamaha
Engine type: Four Stroke, Parallel-twin Cylinder, DOHC, Four Valves per cylinder.
Displacement: 1199 cc
Maximum torque: 114 Nm @ 6000 rpm.
Seat height: 845 mm
Fuel capacity: 23 Litre
Weight: 263 Kg
Height: 1410 mm
Width: 908 mm
Length: 2255 mm
Click here to know more specifications about The Yamaha Super Tenere
Conclusion:
These are the few motorcycles that can be the best suited and should be preferred motorcycles for riding on mountains. For better instances and versatility, modifications can be done according to your wish and will. Here we have highlighted the features that make it a great ride on for mountain roads.