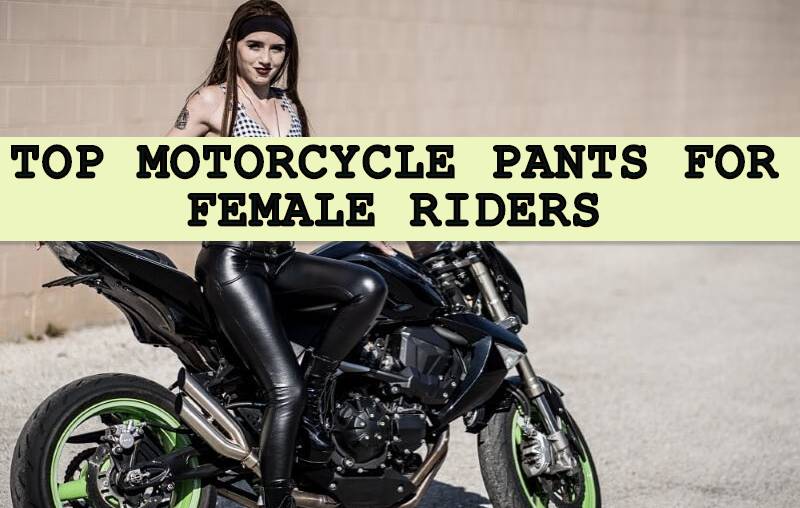 Riding a motorcycle with proper safe attire and gears is what every motorcycle rider should always look up to and also influence other fellow riders to do the same. The Perfect Women Rider's Outfit includes branded motorcycle riding helmets, motorcycling boots, motorcycling jackets, motorcycling gloves, etc.
Not only wearing these promises safety and protection to the rider but also choosing the perfect fit and best to meet your needs are what make your buy productive. So it is always preferable to know the detailed specification of the product to enhance your protection and your comfort at its best.
One of the major problems of the female motorcycle rider is, they have a limited amount of gears choice with restricted size options. Thus, it becomes much important for women riders to buy their biking accessories more carefully.
It becomes hectic wearing gears and proper outfit during the rides in warm months of summer.
Females prefer comfort with style bars raised high. But it essential to choose biking apparel with proper safety measures.
What are the necessary things to remember when you buy motorcycling pants for a female motorcycle rider?
Keeping the safety issue intact, a female rider cannot simply pill down a pair of jeans or trousers or leggings for a ride. Touchwood, you may be a skilled rider but one never knows when bad luck climbs down the ladder. Incidents of Motorcycle accident is more heard than any other. So, prevention is always better than cure.
Following are the feature to look for in ideal female motorcycling pants:
Comfort –
It is very necessary to be comfortable in what you wear for your rides.
Size –
The proper size of the gear you are using is a big matter to look upon.
Padding and armor:
Select the armor and padding according to your need.
Adaptation to the Weather Condition:
Rightly one of the most important points. Choose your gear as per your riding season. To get better conform and hassle-free ride.
Return Policy:
Read the return policy thoroughly before you make your purchase so that you can return it if the size is not standard or doesn't fit you well.
Price:
I guess no one forgets to check this unless she is too rich. It is recommendable to choose something that is affordable in quality content rather than believe that only expensive products are good.
Thus we mention some female motorcycling pants best suited to wear in summertime rides:
1. Maxler Jean Women's Kevlar Motorcycle Jeans:
The Maxler Jean Women's Kevlar Motorycling jeans is a pair of absolutely comfortable, stylish looking pants ideal for women motorcycle riders. Well ventilated and idle for summertime rides, and has adjustable knee armors and padding to assure safety.
The material used is, blend of spandex, kevlar, and denim, for ultimate protection.
What makes it a great choice for female motorcycle riders?
Comfortable wear from flexible spandex fiber.
It has zippers in the thigh area for attaching knee protectors which also acts as vents.
It has kevlar fiber at the knee and hip to ensure extra protection.
The knee protectors are adjustable according to the height of the rider.
The slim fit look helps in maintaining a stylish look.
It weighs around 3.22 Pounds.
The Maxler Jean Women's Kevlar Motorvycling jeans are available in seven different sizes and five color options.
The Maxler Jean Female biker's product is made in South Korea and produced based on the Korean boy's height. So make sure you check through the size chart properly before making an order. Also recommendable to read the return policy sincerely for alteration case of size fir issue. The price of the pants is also reasonable.
Click here to know the latest price on Amazon
2. Summer Mesh Motorcycle Riding Jeans:
Summer in its name, the pants are ideal for rides during the warm month, which absolutely comfortable and slim fit to enhance your sleek structure. It is the absolute best venting system to give the rider maximum cooling while riding in the warm humid days.
The material used is Spandex, cotton, and 14oz stretch denim.
What makes it a great choice for female motorcycle riders?
The materials used in its making makes the pants very durable and comfortable.
It has two pads in the knee area and two on the hips that give comfort ride to the female riders.
The sleek, skin fit design gives the rider wearing it a very great look.
It has two knees X2 and a hip X2 advanced sponge protection module.
The integrated back and back waist folding technology give them more flexibility and discomfort.
It is ideal for using in street biking, touring, ATV, UTV, etc.
It has a very good venting system that helps is air circulation.
It weighs around 2.58 Pounds.
The summer mesh motorcycle pants for females is an elite choice for it serves many purposes, of high-quality, durability, great shape, and affordable size.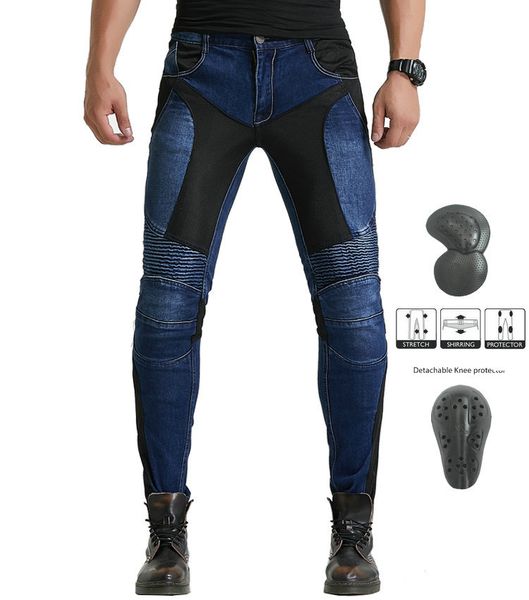 Click here to check the latest price on Amazon
3. Dainese New Drake Air Textile Pants:
If you want a perfect slim fit, fashionable pants for your riding days Dainese New Drake Air Textile Pants can be a great choice. It is made of full 750D textile. It provides multi industry-leading multi-season riding.
It is made up of, suretta fabric.
What makes it a great choice for female motorcycle riders?
It has elastic integrated inserts, with CE rated extension.
It has wide flip-up vets to maximize the flow of air. It is strategically positioned to flexibly open and close the vents as per the season.
It has perforated fabric and inserted in elastic fabric to make the pants stretchable.
The soft hip pads and knee armors and pads are irreplaceable and well sewn to ensure a hundred percent comfort to the rider.
It has a lining system to join and fasten the jacket to the pants.
It has an adjustable waist to rightly fit the rider.
It is available in a wide range of sizes.
It can a great choice and assuring all the needs, right from protection, comfort, breathability. The premium buy comes for a premium price.

Click here to check the current price on Revzilla
4. Scorpion Exo Drafter II Mesh Pants:
The well ventilated broad pants are great for summer wear. These pants are lightweight along with well armored and lightly yet protectively padded. It has Airguard windproof technology to close when the temperature lowers, while in the summertime it can let in ample air.
Materials used, It is made up of, long-lasting poly-mesh with 600 denier nylon at the knees and seat area to enhance its durability.
Why is Scorpion Exo Drafter II Mesh Pants a great choice for summertime rides for female riders:
It has poly-tech perforated polyester for maximum airflow.
It has CE approved ventilated armor on the knees.
Dual-adjustment waist belts for additional support and better fit.
Stretch panel of upper knees for flexibility and comfort.
For better visibility at night time, it has neon night viz reflective edge design.
It has a belt loop for adjustment of the jacket.
Inner pockets for removable hip armor.
This is a fully vetted jacket with a warranty of one year, which helps to trust the brand more.
The durability of the pant is also praiseworthy. The moderately priced pant pair can be a great choice.
Click here to know the latest price on Amazon

5. Alpinestars Ramjet Air pants:
Alpinestars is a well-known manufacturer of motorcycling clothing and gears. It sells motorcycling products on which you can absolutely rely upon. The company owns fame for its world-class technical approach towards its products. The Alpinestars Ramjet Air Pants is the most stylish motorcycle riding pants a female rider can ever ask for.
Materials, It is made of denier panels which are technically arranged for proper airflow.
Why is Alpinestars Ramjet Air Pants a great choice for summertime rides for female riders:
It has textile stretch inserts on the back along with knees for flexibility.
The outer shell of pant comprises polyurethane coating which makes it look very classy.
Removable padding with hook and loop attachment for better fitting.
It has a full mesh lining to keep the rider cooler
3D mesh in the inner waist for comfort and airflow.
Zippered pocket for safekeeping of easy fetch essentialities.
Relative features for increasing visibility of rider at night time.
Shaped for nature and prepare a posterized riding position.
Removable, CE approved knee and tibia protector for utmost safety.
It is a great choice for summer because it has Jet ventilation system for comfort and ease ride. The pants look very funky and cool and give a sporty look to the rider, which makes it many favorites to many female riders. It is available in seven sizes and two color options.

Click here to check the latest price on Amazon

6. Klim Voyage Air Pants:
Mesh in humid condition and for that choice nothing better than Klim Voyage Air Pants. Klim is known for food its durable products and a wide range of products which kept on increasing the shopper's expectations. The mesh coverage is for maximum breathability.
Materials used: The materials used for the making of Klim Air Pants are Karbonite Nylon Mesh.
What are the features that make is a great option for female riders?
Heavy abrasion resistant mil-spec derived from the materials used in its making which make sit strong and long-lasting.
Specially designed 420/500D Cordura frame.
Supremely ventilated mesh on knees and back.
It has specialized pant to jacket zipper technology instilled.
Low profile waistband adjustment moderation made.
One hand exterior pocket on the left side
D3O adjustable knee and hip pads.
Woven reflective fabric on the back.
It has UV resistant treatment on the main mesh, and highly comfortable and easy to wear.
It gives a sporty spunky look to the rider. Comfortable, majority impact coverage and high on utility and durability make it a popular choice among females. It has 11 size options and one color availability.
Click here to know the latest price on Revzilla
7. Sedici Marco Mesh Waterproof Pants:
It is a popular summer touring pant, with amazing ventilation. It is designed to ensure full comfort and safety to the rider. It is highly durable and made of absolute soft material for the rider's comfort for long time travel and tours.
Materials used in the making of the Sedici Marco Mesh Waterproof Pants are ultra flow mesh with reinforced 450D material.
Features that make it a popular choice are as follows:
It is made in a way to increase abrasion resistance key areas.
It has removable waterproof and windproof lining for protection.
Reflective elements for better night visibility.
Zipper front pockets and side leg zipper opening for comfort-wise modification.
HAs pockets for optional hip protection. CE level to armors at knees.
The Sedici Marco Mesh Waterproof Pants has meshed with inner lining for improved climate control and better comfort. It is available in three color options and a wide range of sizes.
Click here to know the latest price on Revzilla

8. Icon Contra 2 Mesh Pants:
It features iron weave mesh, ballistic nylon paneling, and can be worn seamlessly over your shorts or regular trousers. The chassis is paired with three-positioned D3O knee impact protectors, resulting ina light yet a resilient piece of motorcycling gear.
Features that make it a great choice for female riders?
It has Ballistic nylon paneling.
Reflective accents.
CE certified D3O knee and hip protector for the sincere safety of the rider.
Inseam zipper for easy on and off of pockets.
It has installed an adjustable buckle adjustment system.
It can be a great choice for its lightweight and durability along with the secure protective features installed in it. It is available in seven sizes and single color. The pant is also moderately priced.
Click here to know the latest price on Revzilla
Conclusion:
Safety gears are a crucial and very basic part of motorcycle riding. So, when choosing motorcycling pants, make sure to compliment the pants with your jackets because the pants have an adjustment criterion with the jackets. So for a better fit and best resource utilization read about the jackets and make a buy.