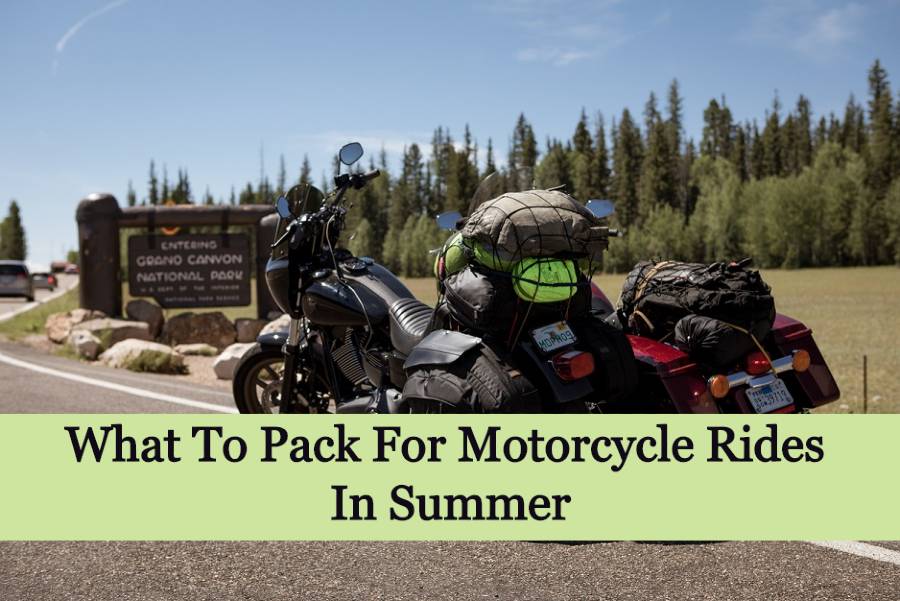 Motorcycling has emerged as one of the universal fondness, irrespective of gender. Motorcycling, the realm has branched itself to various categories, like touring, racing, stunting, off-roading, and so on.
Each branch of motorcycling requires different bikes, equipment, gears, accessories.
The gear selection varies with the different modes of motorcycling. Generally touring requires maximum gears and also needs a lot of packed stuff and belongings, which is obvious, as touring can be of days and months, which requires numerous essential daily using clothing, foods, electronic gadgets, first aid, motorcycle tool kit, emergency item, etc.
Now, touring is carried out by the riders in almost all the season, in the cold season and warm seasons. The seasonal rides demand a different set of gears and packing for the trip. Winter rides need leather jackets, pants, heavy boots, less vented gloves. While rides in summer require mesh jackets with good ventilation, light pants, and boots, gloves with good ventilation, etc.
Packing for a tour must include your rain suit too. There are also a few more things that make up the touring package.
What are the things to carry on a motorcycle ride in summer?
Since you are packing for a summer ride, it can be actually advantageous as you need to pack light clothes only and fewer clothes do the job, unlike winter rides.
Following are the things you need to carry for summertime motorcycle rides:
Tool Kit:
It is the most integral part when you are stepping out for a tour, as generally you are not supposed to have much knowledge about the repairing shops on roads and it is difficult to find one in the midst of a highway or a remote location. Hence, it is better to carry your own tools kit to help ownself in fixing the minute problems on the road.
Also check our bike thoroughly, before starting for the tour to avoid unwelcoming situations on road.
The tool kit is expected to include:
8, 9, 10, 12, 15, 17 mm wrenches, pliers, vise grips, head screwdrivers, flat head screwdrivers, battery-o-rings, zip ties, GPS Fuses, Metric Allen Keys.
Note: If traveling alone, it is very important to know the basic mechanical works of the motorcycle.
Motorcycle Chain Care Kit:
The chain care kit must have 24mm Socket, WD 40, Torque Wrench, Teflon Lube, Rags.
Carry some lubricating oil in a leak-proof small container.
As you travel, you should be checking your chain and sprockets, wear, and free play in adjustment, every time you take a halt.
Tire Care Kit:
The tire care kit involves tire gauge, cycle pump, cycle pump gator clips, and tire plug kit. Continuously inspecting your tire pressure. And make sure the condition of your tire is good before setting off for rides, to enhance your own safety.
Documents:
You dare not forget about the most vital part, that is your motorcycle documents. Manual, driving license, insurance cards, identity card, other attached documents, disc lock, etc. Also better to take a spare motorcycle key, and keep it separately, maybe in the inner pockets of your jacket or a small pocket in your travel bag or possibly the safest place you find.
Riding gears:
Take alternative riding jackets, pants, socks, and a pair of shoes. Also, take two extra pairs of shoelaces. Take an extra pair of summer-friendly well-vented gloves, earplugs and sun visor or sunglasses.
Clothing:
Summer rides can actually be advantageous because you have to carry less number of clothes, and light clothes. Thus, two pairs of jeans or comfortable trousers are enough I guess. Two pairs of shorts, four to five pairs of undergarments, and shocks.
Though the choice and number of clothing to take entirely depends upon the rider or the length of the tour, and also the location.
Female motorcycle riders too can be done with these, because these are the basic amenities you will be needing the most throughout your ride.
Toiletries:
Towel, toothbrush, toothpaste, shampoo, body wash gel, shaving kit, and so on, which you need the most as we have to keep this in mind all the time, that we have to pack as less as possible.
Camping kit:
If you have planned to stay all by your own self, then these are the few things you are ought to carry, which include, tent, sleeping bag, tarp, headlamp, and pillow.
Electronic Gadgets:
This is another crucial part. Do not miss out on any from this list. The essential electronic gadgets for a motorcycle tour are charger, power banks, USB Cable, Bluetooth system, and charging set up of your helmet.
Check out the Freedconn Dual visor Motorcycle Helmets, which has Bluetooth system already installed in it and takes no extra space when traveling.
Other essentials:
Make sure to carry a First aid kit along with the basic medicines and better to take some additional. Carry some dry foods in the bag you keep handy. Some trash bags won't take much space and would also help you throughout the tour. Preferable to keep a torch or a battery charged emergency light, a penknife, sun protection, rain suit, duct tape, and zip ties.
The item mentioned above is research and experience-based suggestions for a safe, comfortable, and good touring motorcycling experience. Make sure the bags you carry are waterproof and leak proof.
What are the things to remember while packing?
Neatly organizing stuff:
Packing for a motorcycle trip requires an organized way of packing, for you have to manage a lot of things in a limited space, and also you have to make the bag look neat and nicely fitting and things must not bulge out. Because when you set your luggage on your motorcycle, you need to tie them properly and unorganized things may tumble down that very moment.
So, when packing for a motorcycle trip try to take as little as possible and try to keep putting them in an organized way, which also helps in maximizing space in the bag.
Make the Luggage as light as possible:
When setting out for a motorcycle tour it is very important to pack as little as possible. Only take the much needful items, like two pairs of shirts (prefer the shirt material based upon the season), two pairs of pants, rain suit, and other mechanical requisites along with some emergency items, which we have listed below.
Choose garments wisely:
It is recommendable to take garments which are made of materials like nylon or synthetic because it dries up quickly. As on road, it is usual not to get enough time or place to dry your garments. Also, the nylon or synthetic made clothes take lesser space than any cotton clothes.
Distribute the things in different bags based on priority:
Pack the things according to their need. Put the essential emergency items like rain suit, extra sun visor, or sunglasses and some dry food in a handy bag, which will be easily accessible.
Rest you can put it in the bigger luggage which you are going to use only when halting for a night or when halting for a long span.
What are the factors on which the packing for the tour greatly depends?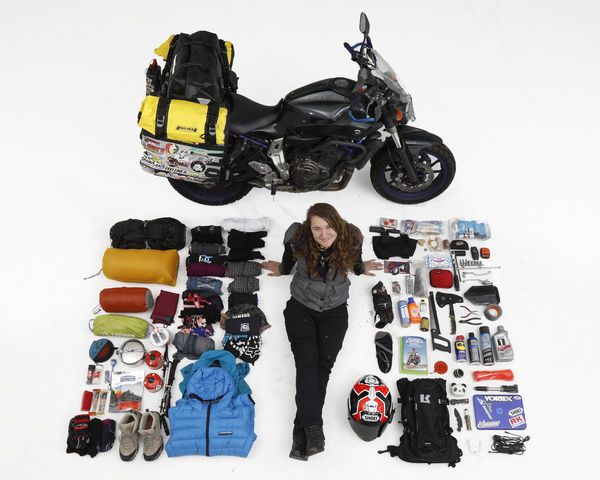 Trip Tenure:
Precision is a must here, only take what is needed. So, depending on how long the trip is going to be, you must pack your luggage. Because a single day trip doesn't require as many things as a week or two rides do. Therefore, pack according to the length of the tour you are heading to.
Space available to carry luggage:
Be sure to estimate the space available and then pack stuff. Not much is available as you need to carry spare fuel too. In a few motorcycle touring groups, they have a support van to carry their goods and luggage along with water, dry foods, first aid kits, etc.
So, make sure when you start with your packing keep the space availability in mind.
Trip location and Terrain:
With the difference in terrain and trip location, the gears selection differs. The gears required for a ride in the plain would of course differ from the gears needed in the mountains trip. So, be wise enough to take proper gear and arrange them according to your scheduled plan of travel.
If riding with a passenger:
If you are riding with a passenger and not solo on your bike, then it is very crucial to pack as light as possible. The passenger always tends to pack heavier than the rider. So, you need to be very cautious about packing when you have a passenger with yourself.
How do you fold clothes for a motorcycle trip?
The main motto while packing for a motorcycle tour is to save space as much as possible. Here we enlist the easy and quick ways to fold your clothes, to save space.
Roll up your clothes and learn to fold your clothes properly.
Place the clothes below the heavy materials.
Stuff smaller clothes like handkerchief and socks inside the extra boots you carry.
Bound the interior of your bag with plastic to prevent leaking of water during rain. This will act as additional protection.
Lock up your valuables in a specific most safe place in your whole luggage, and carry the specific bag wherever you go.
It is recommendable to take some extra cash and keep it in a safe place in your luggage, maybe in your shirt or pants pocket which you are carrying.
What do bikers wear in the summer?
Despite hot days rides, no rider can ignore the safety measures, but of course can be wise enough to choose the outfit and gears ideal for wearing in the summertime that ensures safety along with comfort. The rider usually prefers a well-vented helmet, mesh light jacket, denim, or other light motorcycling pants and well aerated and vented gloves.
Choose the right motorcycling gears and accessories is very essential as that ensures safety and comfort to the rider. A small accident can cause a lot of harm when not in proper safety outfit. So, it is always preferable not to take any chance, with the motorcycling accessories whether you are traveling long roads or in your neighborhood.
How is summer motorcycle rides better than winter rides?
Summer rides are in a way blissful than winter motorcycle tours because it is quite windy and nice. You can enjoy the sun and travel for long without getting much tired if your gears are well ventilated. Whereas in Winters, it is difficult for many to ride in the chilly cold. Rider's hands and feet tend to become numb, which is a bit risky and this might lead to discomfort to the rider.
For female riders, summer rides are preferable because they can travel greater distances since the summer days are comparatively longer than the winter days. And researches claim female motorcycle riders tend to like traveling more during day time. It is safer for female riders.
As we go for touring in a motorcycle firstly it is difficult to carry much load and secondly, it is essential to carry many essential belongings with yourself. Missing out one among the numerous important things can lead to the utmost difficulty.
So, after some researches, we have enlisted some very needful and essential things that a motorcycle rider must carry with himself or herself when riding especially during summer.