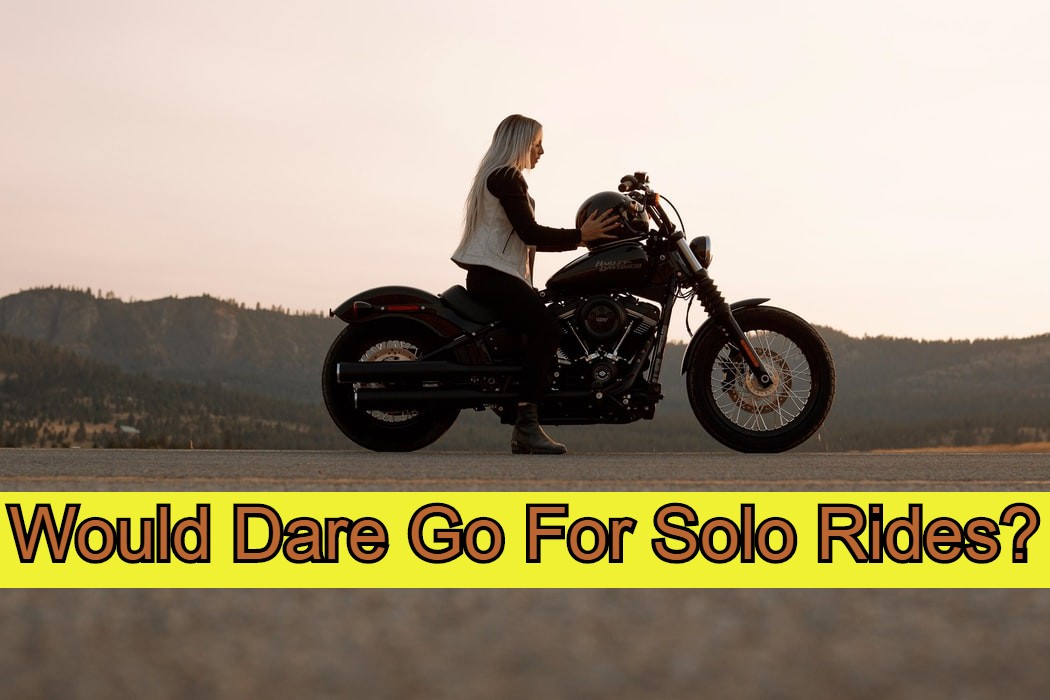 In one of our previous articles, we discussed the problems of a female rider. To start from family pressure to not venture out alone coupled with an undisciplined, aggressive driving culture on roads, the hindrances faced by the female rider are numerous if counted. Ther are plunging numbers of women who are taking much interest in motorcycling and moving in quite a pace along with the men.
Motorcycling can no longer be tagged as a manly thing. For women are equally contributing to the adventure sport, be it racing, touring, or stunts.
Female motorcycle enthusiasts are soon seen to choosing solo trips, turning their deaf ears to all the stereotype customs and mentalities. They are proving it over time that, gender is cannot stand as a differentiating parameter. With dedication and heights of confidence, females are achieving new altitudes of achievements and self-esteem.
Women are eventually learning and interpreting how to work for one's own self against all odd and look after one's own needs and dreams even if it is to see the world alone.
But when you plan to kick start to the execution of your plans, the first thing that strikes is,
Is it going to safe? Is it okay for a girl to travel along the unknown roads? What if some tragedy falls overhead? How is she going to deal with the matter of restroom? What if she faces some mechanical problem with her bike in the midst of the journey?
Yes, these are some inevitable truths of society and hard to overcome norms in the path of modernization. But these are not impossible to scribble off. No one would disagree with the statement that, 'when there is a will, there's a way'. And to reach out to the way is to take some necessary precautions and preventions s we decide to set off for solo motorcycle rides being a woman.
The female riders who have made solo rider exclaim that, the satisfaction of riding solo is truly soul-soothing and stands by the right definition of self-satisfaction. The feeling initiates all of them to encourage other women to ride solo and gather a lifetime of experience for themselves.
If you are one such woman who's ready to get on the saddle and planning to ride alone, here's a useful guide for you. So here, we shall talk about some necessary precautions a women biker must take to have a safe and healthy ride. Not necessarily they will flush out all the fears but yes, they potent to make the ride better and safer.
Here are the following tips:
1. Safety comes first! –
Being a female motorcycle rider, safety is the one most important thing to be concerned about. Safety here does not only indicate to end rides before dusk or keeping oneself away from strangers, it conveys a lot more.
As a rider, especially when planning to travel solo, you must be capable enough to handle the basic mechanical maintenance issues of your bike. Changing your bike's flat tire in specifically one of them. As it gets difficult to find a mechanic in the unknown roads and highways.
You must not forget to carry all the necessary tools and gears of your two-wheeler.
choose proper comfortable gears for yourself, use special vest if you plan to travel at night.
Must not forget to carry enough dry food and water. It is always appreciable to carry protein-rich tucks.
Make sure that your carry a set of an identity card and medical informatics handy. So, it is easily accessible in case of an emergency.
It is always appreciable to choose not to talk or share many details with a stranger and on-road unknown fellow.
2. Be confident and dress as if you are local –
It is very important to put on a confident attitude when traveling alone and amidst strangers, even if you are not.
Nothing is scarier than being lost in an unknown place. Make sure people around you should not bother you for being a girl visiting along.
Whenever and wherever you decide to take a halt for food or for a change, look around, try and observe if it is safe.
Analyze and read the instructions outside and in the reception before switching to eat or stay in a hotel.
Dressing as a local is an amazing and tricky way to avoid the attention of people around.
Dressed as a local is one easy way to go with the flow of hoi polloi and not be taken for a tourist-target.
3. Make a scheme to Start early and Finish before the nightfall-
Always schedule your rides beforehand and it is preferable for female riders to plan it before the nightfall. Because after the dusk it not only become unsafe to travel but also to choose the right directions and roads. To add on, it is also problematic to figure out the condition of roads.
The unknown roads can actually be dangerous to travel at night time. In case of any mechanical breakout on the bike, it is difficult to find a mechanic. Moreover, after traveling thoroughly throughout the day, it is wiser to rest and prepare for the next day.
Also traveling with some time at hand is a good idea as any unforeseen situation can be handled effectively in the daytime unlike at night when you are alone and there's no one to help.
4. Be aware of your surrounding all the time –
When traveling alone, one must remember it is only her eyes and ears to ensure if her belongings her safe and secure. Obviously it is really quite a deal to carry all your luggage and belongings to the restroom all the time but it is better to never take a chance. You must keep a regular check at your baggage and keep your zips never undone. It should be kept in mind all the time you must listen to your intuitions throughout your journey. Whenever you feel something is not right or feel some kind of absurdity, it is recommended to walk out of there as soon as possible.
You must also learn to say a firm 'no' when you decide to travel alone and make sure we don't offend someone or break into a fight with someone. If a difficult situation arouses if is best to walk out rather than fighting back. Truly it takes a lot of courage for a female to choose to travel alone to unknown places and to create such memories you need to overlook some bad times while your journey. Touchwood, no one ever gets into such trouble.
5. Leave an aisle of your journey –
This is a wonderful way to maintain a safety protocol. Not only females but also male riders must follow such safety strategies when traveling. Through social media keep your loved ones updated about your day to day plans.
These will help them to trace you in case of emergency and would also help them t know your whereabouts. Inform them about where you are going to check-in at the end of the day. It is great if someone has your back and worry about if you fail to drop any update in a certain interval of time.
6. Set up a backup plan and keep alternatives for navigation –
It is very necessary to keep a plan B chocked out, for you never know what arrives in which situation. Preventions are better than cure, so is Plan B even though Plan A is agreed to be reputed enough.
In the era of modern technology and high facilities, it is better to carry paper maps of your routes and locations of stay. A battery led torch, women safety needs, and others because one never knows in what situation she is going to be in. it is preferable to be prepared for the worst and not completely rely on gadgets.
7. Mentally prepare yourself for the ride –
Sometimes, it becomes very monotonous when traveling for too long ina go and one often tends to start losing her interest. So it is very necessary to keep one's focus straight and keep moving forward, which takes a lot of consistency and mental preparation from beforehand.
Homesick is a very often feeling when into such long travel schedules but with continuous suppression of the very leading back emotion, one can gain control over the whole tour and enjoy coping up with all the situations. These are all the irrevocable part of the journey which you choose so make sure you don't compromise the shoes you have chosen fo yourself.
8. Indulge yourself into the ride:
There will be countless difficulties, but amidst all do not forget to embrace the journey with enjoyment and fun. Learn, enjoy, and keep moving forward creating memories. This is one such big shot which is not everyone's cup of tea.
This is one such act to prove yourself an independent strong woman, so don't make any compromise about this. This is one best time you will ever have with yourself. So make it count. This is one best thing in a lifetime and the memories you create through this are accessible to cherish all your life.
So, keep traveling solo and inspired a lot of others to do the same. Fly high in the sky you have painted for yourself.