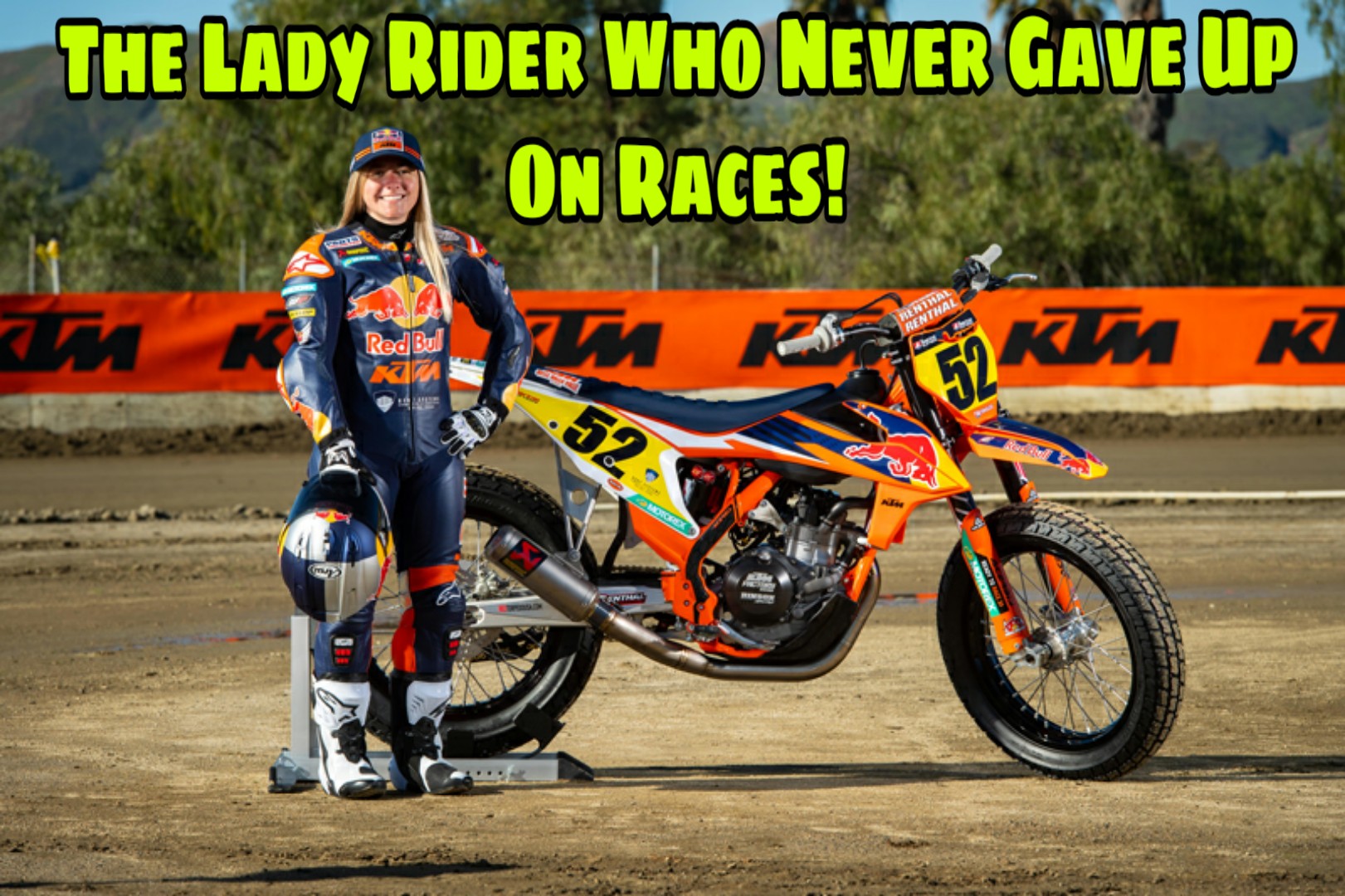 Who is Shayna Texter?
Shayna Texter is a 28 yeard old girl, whobeats boys at the male-dominated extreme sport, flat-track racing "America's original extreme sport". Shayna Texter, an American flat track racer.
How tall is Shayna Texter?
Shayna Texter is 5 feet tall.
What is Texter's weight?
Shayna Texter weighs less than 100 pounds and this complete focus on she completely defies every possible physical barrier. Shayna Texter makes her silhouette grand and impressive in appearance.
Where is Shayna Texter from?
Shayna Texter's hometown is Willow Street, Pennsylvania, Constituent state of the United States Of America.
She scribbles so-called superstitions and vague notions of people about extreme sport and presumptions about racing.
Texter has earned recognition and great fandom not only for being one of two female racers on the professional circuit but also one of the most winning, period.
The single female stood on the flat track racecourse, next to her 225-plus-pound Husqvarna motorcycle. Shayna Texter is an absolute underdog amidst all the male flat race riders.
Husqvarna has always been an amaze and still, today holds its prestige today and gets its new retro cafe racer released in 2020, The Husqvarna Vitpilen 250, with zero compromises in its look and design.
Who is Shayna Texter's influenced by?
Racing on a dirt oval is in her genes.
Shayna's grandfather raced in his younger time of life.
So was her dad. Her father was a flat track racer as well!
To add on to what made her a motorcycle racing enthusiast is, the Texter's own Harley Davidson dealership. I guess now it would not bother us much to accept that, she started riding at the age of three.
In many interviews, she said that she looked up to her dad as an inspiration to choosing this career.
Also, Shayna's brother Cory Texter is a flat track racer. And Shayna's first step to the stone of the racing journey was holding her brother's hand.
In the year 2010, when Cory Texter was halfway through the season, Shayna decided to join in on the race. This marks the beginning of her gloried racer life.
She is no less than a fighter. As she decided to join in on the ride, she neither had a proper racing motorcycle, nor much money to invest on. And there she improvised by mounting tires from a street bike on her trail bike to race.
It simply didn't matter that she did not have a flat track bike. All she nurtured was free positive spirit and strength to struggle with all her dedication towards her aim and she was ready to race.
In the same year, where she moved step the first careeristic stone of her life, her father demised. She lost her source of inspiration.
Mr. Texter expired after fighting down cancer in his teenage and then finally surrendered after a lot of struggles against heart and lung disorders.
Later in one of her interviews, Shayna Texter said, she never stopped learning from her father. She mentioned, even though her father's condition went on getting worse, he never gave up and tried his best to keep up. And that is what gives her more motivation and will to fight.
Shayna Texter's Career And Achievements:
With losing her father, she attained more inspiration from his father's struggle. She did not give up, instead made her motives stronger, ambitions higher, and dedications deeper.
In the year 2011, right after a year, she joined racing she took up as a racer at Knoxville Raceway without even a mechanic to help her out. Despite all odds and grooves, she went on creating history about oneself by winning her First Grand National Race.
Achieving the first stone boosted her up, and henceforth she went on to take more wins after her name.
She recorded three wins in 2012, succeeded by 3 more in 2013.
2017 arrived to be an incredible year to her for she earned 5 wins in a single season.
Shayna Texter, with an assist from Husqvarna, formed her own racing team. Husqvarna, the manufacturer's first official venture in flat track racing.
It was exciting for both the edges, but one that got off to a rocky start.
Determination Over Hindrance:
First, she had only taken delivery of her new, out of the box Husqvarna motorcycles. A few days before the first race of the season at Daytona International Speedway.
And since AFT Singles machines start out as 450cc-class motocross bikes, they weren't set up for flat track racing at all. Installing the necessities such as 19-inch wheels, tires, handlebars, lowered suspension components, and other bits is a major job, which she and her technician hammered on nearly non-stop for days–days when she could have used to ride and get acquainted with the new bikes.
Amidst all the circumstances, Texter only got about only an hour's worth of practice on her bike before the Daytona TT race.
Things went on to be messed up, as her custom leather suit–which had just arrived from Italy–did not fit her well.
Texter style, she gave it a go anyway. She was unable to be one of the top 18 racers and could not make up for the main event. But she did not let her enthusiasm drain.
she calmly took it in pace. She fixed her sights on the next race. And began a season scattered with both trials and triumphs.
She took seventh–an improvement, at the round 2 in Atlanta when it happened to be after a few weeks.
At the Texas Half-Mile in Dallas, it was clear that her team was getting the bike sorted out, and she raced to a thrilling second place.
Texter was much expected to bring home the win at the Arizona Mile. Alas! but track problems left her with a disappointing eighth-place finish.
After another second-place finish in California, The Sacramento round didn't treat her much better, and she didn't even qualify for the Springfield TT.
But above all, she did not quit.
She was back to fight for top finishes in Kentucky. She acquired the third place at both the Red Mile and the OKC Mile.
But finally, at the Allen County Fairgrounds in Lima, Ohio, known as the toughest track on the circuit. Texter shocked the racing world by taking her first win of the season.
Guess, what was the strategy for her incredible win?
She exclaimed, "Hold it wide open and hope for the best!"
After the amazing win at Lima, Texter raced at the New York Short Track and took 14thplace.
She failed to qualify for the main event at the Buffalo Chip TT in Sturgis, South Dakota. But in just 48 hours she impressively won a win at the Black Hills Half-Mile.
At the Peoria TT, not only did she fail but also faced a terrible crash. But for an optimism alike Shayna, it was too timid a reason to stop her.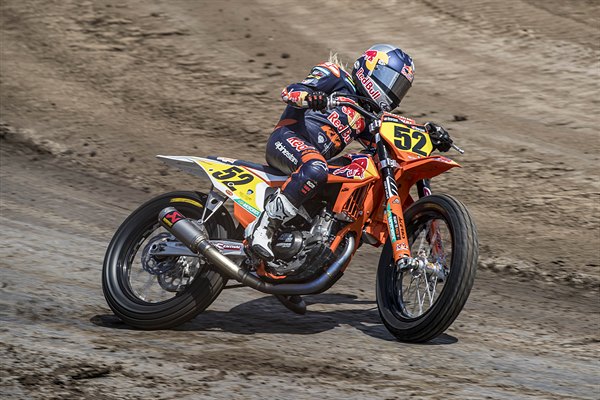 Could the terrible break at Peoria stop her?
Only four races were left in the season. It took her a lot of hardship with herself for a tenth rank finish at the Springfield Short Track.
At the Williams Grove Half-Mile, a track not far from her hometown and a race attended by loads of family and friends, she acquired the runner-up spot, but then finished seventh at the Minnesota Mile after a bad start.
The Meadowlands Mile in New Jersey was a more mile to the race. It was an unfamiliar track, and she had a fight on her hands with fellow racer and "Mile Master" Kolby Carlile. While Carlile got an early break from the pack, Texter fought her way through a large group of riders and ran Carlile down. But Carlile wouldn't back down–and neither would she.
The two fought neck to neck for the lead for more than half of the main event's 15 laps. Texter, with persisting gentle persuasion just a bit more speed from her bike on the final straight to win by a mere 0.006-second.
Once again, Shayna Texter's refusal to never give up enabled her to end a rollercoaster season with a marvelous win.
As she finishes the 2018 season on a high note, the offseason held some stirring surprises for Texter: a ride with the Red Bull KTM Factory Team.
The team's first foray into American Flat Track. With its fingers in MotoGP, Rally, Enduro, and SX/MX racing, the Red Bull KTM Factory Team is known for its elite athletes and a culture of winning, and a shot to be on this team is a dream come true for Shayna.
Conclusion:
Shayna Texter has been establishing herself as one of the top competitors in the sport. She is an epitome of determination, dedication, and perseverance. With her never giving up attitude, she portrays herself as an inspirational figure to the entire world.
She is a motivational and inspiration behind hundred of female riders across the globe. She empowers women setting her own self as an example.
She is truly admiring and a real-time role model to look up to.
She lifted up the very fact that 'Nothing comes easy' and herself always lives by it. The ride to success is never easy, but giving up should be diminished from life in order to achieve.
In spite of being a girl, and facing the inevitable problems of female riders, she overtook boys.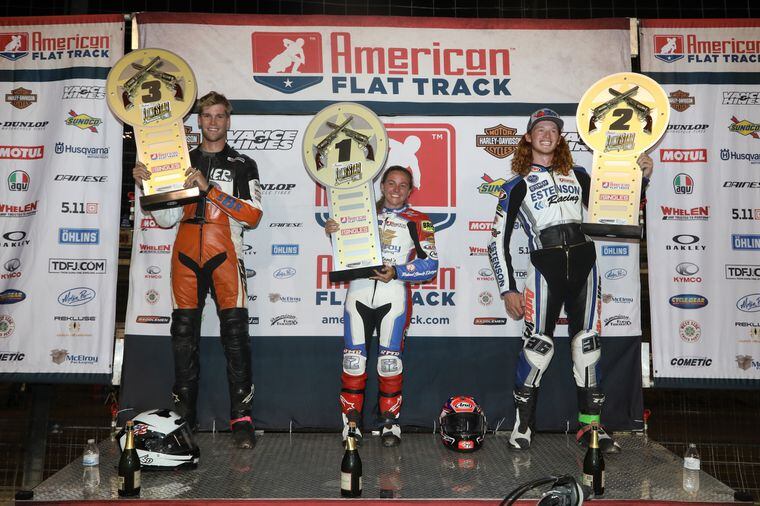 Everything she's accomplished, from making history as the first female racer to win a Grand National event to getting Red Bull KTM its first American Flat Track win, is a result of her hard work and perseverance.