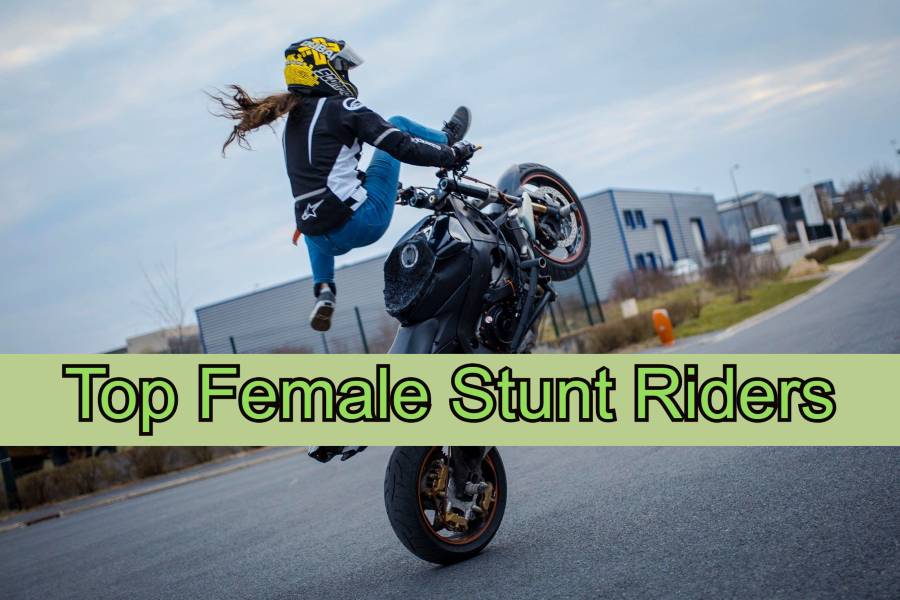 Life with a motorcycle is way beyond honking in traffic, parking it safely or skills to avoid congestion. It can be of greater heights when you are crazy about it, 'irrespective of gender'.
Women today hold themselves in such altitudes where they stand on the same table where men do. Scribbling off the stereotypes they are heading into every activity known to be 'Manly'. Beyond the Problems of a Lady Biker, females are still taking part in all the possible adventure sport and other dwellings.
Such an inspiration female figure is SHAYNA TEXTER. She is an American Flat Track Racer, who over shone boys in the particular forum.
Women don't hold themselves back even when it comes to stunting.
What is stunting?
Stunting is a motorcycle sport that is characterized by stunts, which involves careful and super level of acrobatic skills of the motorcycle and sometimes the rider. Common maneuvers in stunt riding are wheelies, stoppies, and burnouts.
The category of motorcycle used for stunts is sportbikes.
Sportbikes make it accessible to good speed and acceleration to its riders. It also provides better cornering and braking capabilities than any standard or cruiser motorcycles.
This type of motorcyclesis characterized by a high-performance engine and brakes, advanced suspension systems, and a lightweight frame. All of these bits make a sportbike ideal for stunting.
With changing time, the sight of seeing someone jumping cars, buses, people, and even canyons on two wheels has generated a lot of fantastic chaos among crowds all across the globe.
The sport, stunting has relatively highlighted a number of unknown motorcycle enthusiasts into overnight superstars. The women who stunt are less in number but they are absolute stunners.
Who are the top Females who do stunting?
1. Sarah Lezito
Who is Sarah Lezito?
Sarah Lezito is a fantastic female stunt rider, who into making her name for her own self in the category of freestyle in sportbikes.
Sarah Lezito is only 24 years old. She has been a very passionate motorcycle enthusiast since childhood and started riding a motorcycle when she was only 13 years old.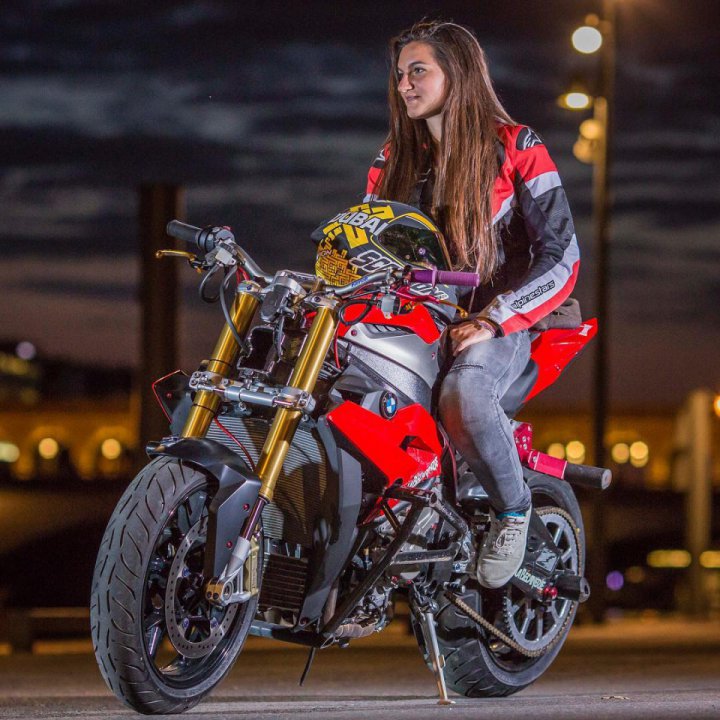 Where is Sarah Lezito from?
Sarah Lezito is from Champagne-Ardenne in France.
Life and Career of Sarah Lezito:
Sarah Lezito started off at the age of 13 and with time and age, she grew to be progressing to faster and bigger bikes. She has been tagged as 'the best stuntwomen in the world'. She is charming in looks and stunting.
She is now an icon in the BMW Motorrad Community. Sarah Lezito exhibited her talent in the Stunt Riding World Championship, leaving back a countless number of men. Sarah Lezito with all her achievements simple proves that 'Stunting is just her Cup Of Tea'!
Initially, Sarah Lezito started her biking with her friends in one of her friend's All-Terrain Vehicle (AVT), in the vineyard in her neighborhood. She kept up struggling and learning the tricks and peaks of stunts with her friend's bike until she got the first motorcycle for herself. She was only 16, got herself a Yamaha DT125X Supermoto, her first ride on in the glorious direction.
Yamaha DT125X possessed a 124cc engine that made 15bhp of maximum power and had a top speed of 105 km/h.
During the launch of the KTM 125 Duke, she became the brand ambassador for KTM. She received a Ktm Duke 125 after she became the brand ambassador. Midst all the initial achievements, Sarah Lezito got herself a Honda CBR 600RR. The supersport's higher power gave this talented, capable rider the freedom to widen her stunning abilities and propagate better practices.
She practiced in a parking station, which she usually referred to her workplace with zero colleagues and absolutely no work except for parking. The police and residents knew her, as they saw her practicing wheelies and truly admirable stunts every day.
In the year 204, she took part in the Stunt riding world championship, which happened in Poland. She makes her first remarkable achievement there, after two years. She acquired the ninth place among 75 male riders in the event and acquires her first fan moment in front of the entire world.
She chose her passion for anything else. There is no space for shyness or regrets when it comes to her adventure sport. Her talent made her al the way to Hollywood, Sarah was requested to work for The Marvel Blockbuster, Avenger 2.
In 2016, she got her hands over the BMW R 1200 RT in the thriller Inferno. With the jobs as a stunt double, contests, shows, and shootings, Sarah Lezito has meanwhile been known all over the world.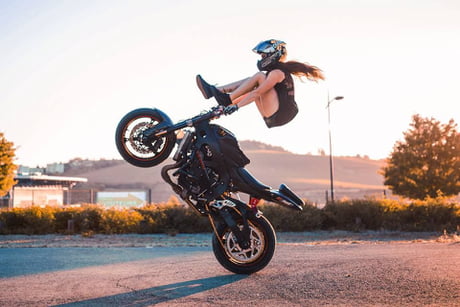 Despite her talent, it is her hard work and perseverance that fetched her to the world's stage of recognition. She earned herself a title and nothing holds bigger fame than that. She is known to be dancing on her bikes with her pleasant, clear, and flexible moves. It is an absolute pleasure to watch her.
2. Anam Hashim:
Who is Anam Hashim?
Anam Hasim is a young, bubbly college girl who started riding at the age of 5 and eventually upgraded here bikes and thus makes her name in the India Book of Records. At 18 Aman Hashim is the youngest female stunt rider.
She is from Lucknow, Uttar Pradesh, India.
How old is Anam Hashim?
Anam Hashim is 25 years old. She is a member of a motorcycle stunt group in Pune, which includes three members among which Anam is the only girl.
Life and Career:
She is a young rider, who started riding when her feet barely touched the ground sitting on a motorcycle.
She says, her father is the biggest inspiration and motivation behind her success.
She was a part of the sixth edition of Asia's largest biking Festival, India Bike Week in Goa at the age of 24.
Anam Hashim is known to be the first women to ride, to Khardung La, which is over 2510 km on a TVS Scooty, during the Himalayan Highs. This made her write her name in the India Book of Records in the year 2015.
Anam Hashim is the only Indian Stunt Rider who is a female to participate and win an International Event in 2017 that is Cross Country Valley Racing.
The other remarkable of Anam is, she completes the Desert Storm Racing Event, which is known to be one of the most difficult racing competitions, in which no except for her completed in the first attempt.
Despite being a stunt rider, she excels at racing rallies, this thoroughly explains her love for the bike and high determination.
She claims Leah Peterson to be ideal in Motorcycle Stunt Riding. She plans to start a professional course or female stunt riders.
Currently, she does stunts on an Apache RTR 180 and desires to buys, Honda Fireblade, Yamaha R6, and Kawasaki Ninja ZX-6R.
She dreams big and promises to take the stunt riding more miles. She desires to participate in XDL International someday and would love to participate in the international biking events, she says in an interview.
3. Chesca Miles:
Who is Chesca Miles?
Chesca Miles, real named as Maya Chesca Miles is The United Kingdom's First professional female stunt rider. She is Streetbike Freestyle Stunt Rider.
How Old is Chesca Miles?
Chesca Miles in 28 years old. She is a motorcycle enthusiast and started to ride in late 2010.
Life and Career:
Chesca Miles is a multi-talented personality, who world on numerous genres, starting from acting, body fitness, modeling, painting, sports, Stunting, and so on. She is an epitome of beauty with vivid talent. Looking at all the dimensions she embraces, it can be concluded that a person can thrive and strive to bring out the best in herself with the utmost dedication and hard work.
4. Leah Peterson:
Who is Leah Peterson?
Leah Peterson is a passionate female stunt rider with more to her happening life. She is an engineer, with immense tech-related knowledge. Wheelies, burnouts, bunnyhops, and drifts – maneuvers usually handled aggressively, but here, with a sense of calm.
How old is Leah Peterson?
Leah Peterson is 25 years old. Beauty with a brain is the best title given to her.
Life and Career:
She is an amazing top class female stunt rider. Her stunts are hardcore and the way she performs them with ease is worth millions appreciate. She won a million hearts with her dedication and hard work.
Miss Petersen is here as part of the 2013 Motul Bike Festival, which also counts as the first leg of her Asia tour.
Apart from a wide category of statuesque postures, she also burns plenty of rubber in the shape of the plume of smoke billows from her back wheel during a burnout.
She is one of a kind and unfurls the flag of women empowerment high up in the air.



Conclusion:
These epic females who live as inspirations motivating other women around need no music to dance. They sway with the gusty sound of the engine, showcasing their talent hub with smoothness and grace. They break down the petty norms against womanhood and shout out loud I LIVE AS I RIDE with their life and deeds. Amidst the problems faced by a female rider, they are the butterflies who set the world in amusement with their amazing stunt. The world awaits to watch them, dancing on their vehicle blissfully.